Today I thought I would share with you one of my first projects inspired by Pinterest. Yes, I am a Pinterest-aholic. Did you know they have a Pinterest App? Yes, yes they do and to me looking at pretty things is a much better use of my time than angry birds. 🙂 Anywho… I digress!! Here are the pictures I pinned
I liked the idea and look and had the perfect place for it.  See, there is this awkward little piece of wall in the corner of our L-shaped hallway that is in between the bedrooms.  It's too big to leave blank but I could never figure out what to put there.  This worked out perfectly.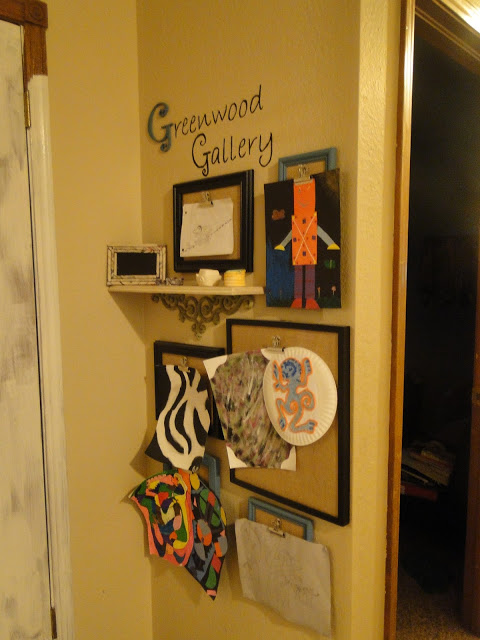 I did this project before I was blogging so there are know how to pictures.  But, the links with the pictures are good and they give tutorials.  (Yes, I am still working on painting the doors in the hallway- shhh)
I used some old frames I had in my closet that I was no longer using, I painted some blue and left some black, I removed the glass in the frames to make room.  Then I took some foam core board I also had left-over from a previous project and covered it burlap using hot glue to secure it.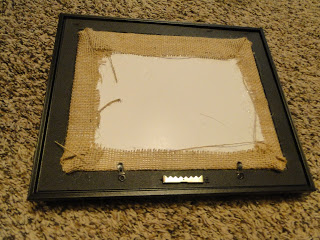 Then I bought these really cool clips and attached those to the burlap piece with hot glue.  TIP:  put the burlap piece in the frame before mounting the clip so you can make sure you have it in the right place.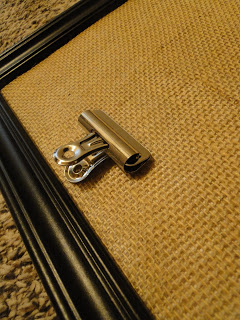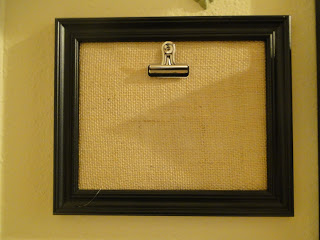 I had a shelf that I was no longer using and decided to incorporate that as well for those lovely pottery items and 3-D art.  I was going to paint the bottom to match the frames, but I thought the color blended enough that I decided not to.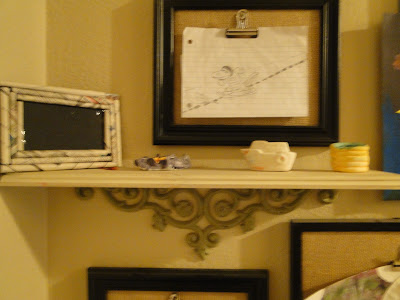 I decided I wanted to give this wall a title of sorts.  Hence the cleverness at the top "Greenwood Gallery."  🙂  I bought a cute scrolly wooden G from HL and painted it to match the blue frames and then painted the rest right on the wall.  I printed the words from my computer and then transferred them to the wall by rubbing pencil on the back of the paper and then "tracing" over the letters on the front – by pressing hard while tracing the pencil that you colored on the back will come off on the wall.  It wasn't a perfect science but it was good enough for me!!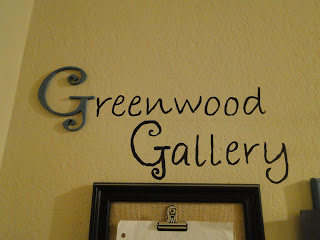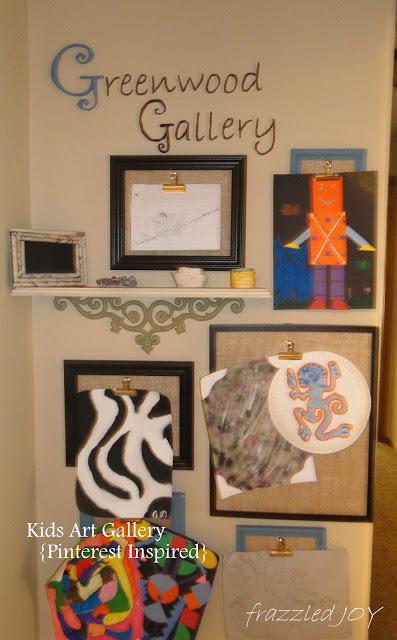 My kids couldn't wait to choose their artwork to fill it up and we all love having it on display.  A hidden bonus is it keeps people from piling junk up in this corner!!
Go and check out many more projects and get yourself inspired!!