Home Office Design Ideas – One Room Challenge Week 2
Hey there everyone! It's time for an update on the One Room Challenge. If this is your first time here then you might want to check out this post first, and then come back. Ok? Good!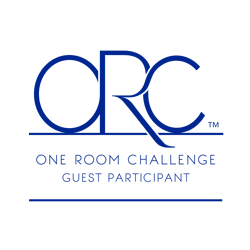 So I have to be honest. I have gotten very little done this week. This has been a week full of blessed interruptions. You know the kind – activities you love with people you love. But, at least I feel like I have more of a handle on the direction the project is headed…more and more everyday. 😉

Which is great, because last week when I kicked off this challenge I really wasn't clear of much of anything!!
So today I have this mood board (really more of a mood picture) to share with you. Introducing the look and feel of our new home office space.
 
And now for the punch list: (duh, duh, duh)
*paint furniture
*organize computer hardware
*organize other desk stuff (which will include purchasing new organizational containers and such)
*create an inspiration board
*find new desk chair
*accessorize and fluff
That doesn't look like a very long punch list right? Ya, that's what I keep telling myself, which is making me nervous that I'm going to be too nonchalant and not finish!! Nah! I always finish! Ha!
So, until next week, when hopefully I will have something more exciting to share with you guys! Be sure to keep following along on instagram to get behind the scenes sneak peeks! Oh, and please be sure to check out the other One Room Challengers – both the featured designers, and the other linking participants! You are sure to find inspiration for whatever space is on your to-do list!


To catch up on the One Room Challenge check out:
Linking up with The Creative Circle / The Inspiration Gallery / That DIY Party / Inspire Me Monday / Inspire Me Tuesday / Totally Terrific Tuesday / Tutorials & Tips Link Party / Show & Tell Link Party / Wow Us Wednesdays