Okay, so every-once-in-a-while my husband and I both get brave enough to tackle a larger DIY project than just painting. One that requires power tools. And this fall break weekend we did just that… (I feel like there should be some exciting music playing or something…I'm so excited!!)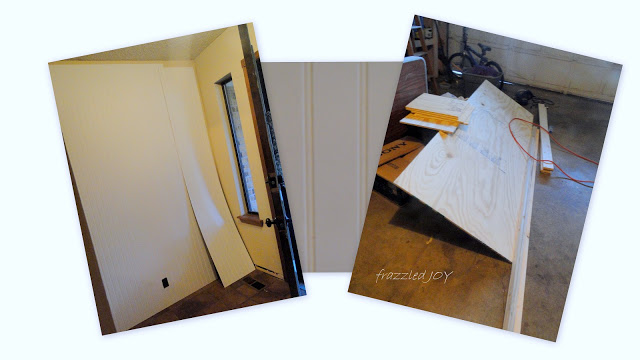 We started with supplies.  Bead board paneling for the wall, 1×2 for the shelf and bench supports, and 1×6 for the bench slats.  We had some of the boards cut for us at HD because we just aren't that accurate with the saw and some of the cuts needed to be done well.  But…most of them we saved for ourselves because I'm a visual person and even though I had a plan, I just wasn't 100% sure how it was all going to come together.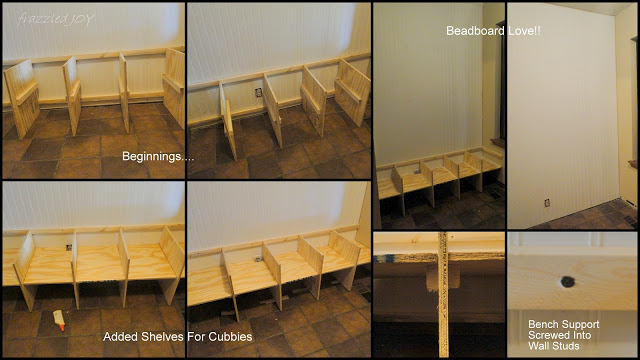 I grouped the pictures of the process in collages so as to not flood you with pictures.  I got most of my methods from the internet or I made them up as I went along :).  I wanted this to be pretty and looked like it belonged in my house, but I also needed it to function.  As I showed you
here
, our entryway usually looks like a dumping ground.  My hope is that if I give them somewhere pretty to
dump
put there stuff then it won't be all over the floor – we shall see.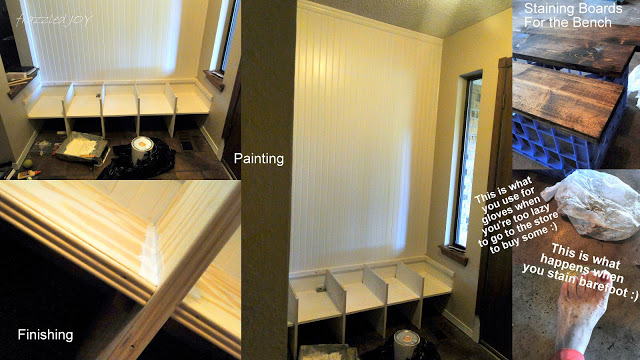 I bought some stock molding at HD to cover the cut edges of the plywood and attached them with wood glue and some tiny finishing nails.  I caulked EVERYTHING.  Caulk is my best friend, it covers all the mis-measuring, mis-cutting, and wonky wall problems.  And, once you paint over it no one will ever know (shhhh…).
I decided to go with a dark stain rather than the faux treatment from my inspiration photo
here
.
I put hammers and chains in the hands of my 9 and 11yr. old and allowed them to go to town on these boards.  They loved it!!  We bought soft white wood that would distress and stain well.  I wasn't worried about knots or variations because I like the character.
I'm hoping to get the finishing touches – poly, touch-up paint – done and then install the bench boards.  I shopped for hooks today and worked on number and placement of those, next is baskets for the cubbies.
Finished picture coming soon!!