I am still up to my elbows in paint in the midst of my kitchen refresh. Progress is being made but it feels like I am moving at a snail's pace. I knew it would be like this!! I just wanted you to know that I haven't forgotten about you :). As I was getting closer to making a decision to start this project I needed a direction. I have been all over the place with ideas over the past couple of years and like many people I have more than filled my
kitchen pinterest board
. I love pinterest like I love design magazines for inspiration. In a effort to cut our budget I let go of those magazines, so I'm thankful for a place to search for those ideas in a way that works for me – visual first. Anywho….one day about a month ago I was looking through
my board
and noticed a trend – light and bright.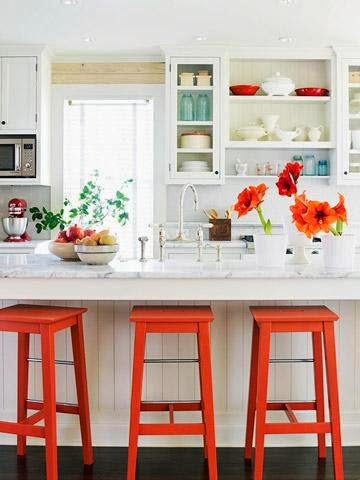 I went back and forth on paint color for a while and really I didn't care that much except that I knew I didn't want white for the cabinets like I have done with the rest of the woodwork in the house. So, hubby and I took a trip to the paint store and we met in the middle. I was leaning more towards grey, but weirdo that he is, he hates grey. Says it's not a color.
I am so happy with the color we chose (which I will share with you eventually)!! I tend to be all over the place when I am working on a project. I have so much trouble focusing on what needs to get done. Also, it tends to spark my mind wandering to other projects that I want to do elsewhere. I made a list yesterday of all the things swimming around in my head for the kitchen, and it was really good to get it down on paper…and a tad overwhelming. But, I am going with the attitude of a little bit at a time, and one thing done before the other thing starts. We'll see how long that lasts.
How do you do projects?? Are you zeroed in on the task and focused or are you all over the place?? Either way – isn't it fun!!!
Blessings friends – I'm off to paint!!