As much as I would love to go out and buy new furniture every time I decide to redo a room, that's just never been in the budget for us. Never. So, I have learned over the years to use what I have. For the longest time that meant every room looked like a thrift store threw up – mismatched stuff everywhere. Then, I learned the power of paint. I showed you a couple of weeks ago how I transformed a cheapo bookshelf with some diy chalk type paint and some pretty wrapping paper. Today I want to share a couple of other pieces. First up the desk.
I mentioned this is my ORC update last week, but didn't go into a whole lot of detail. Here's a before reminder again.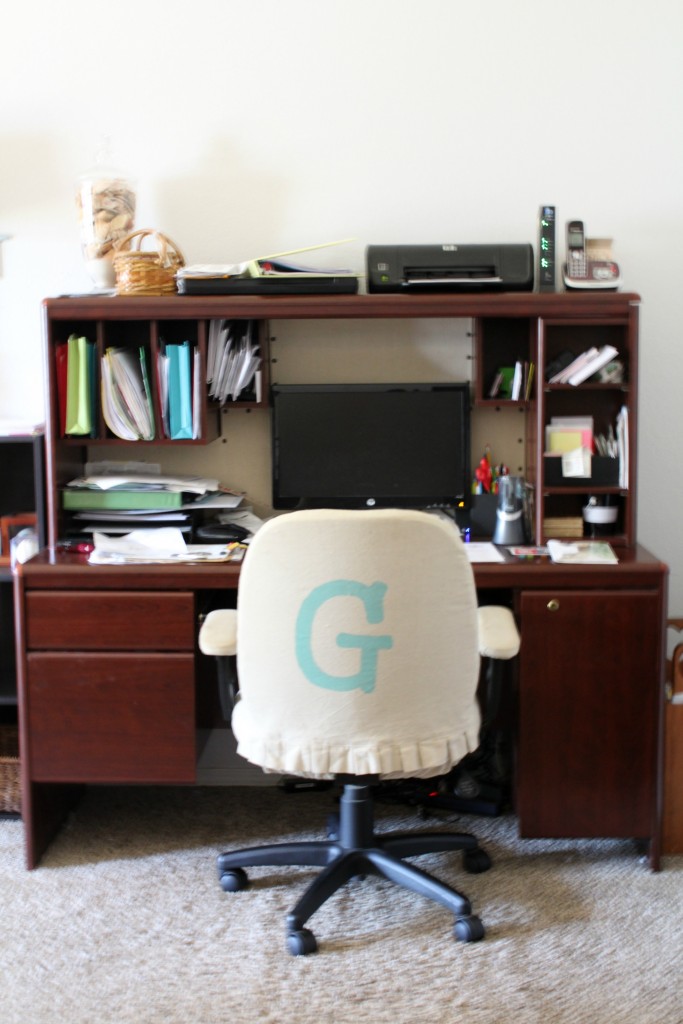 First things first was taking off the hutch. It provided a lot of storage, but I just felt like I was working in a cave all the time. So, off it came. It left behind a couple of holes to fill on the top, but that was it.
The whole desk got a couple of coats of the same diy chalk type paint I used on the bookshelf. It was looking good at this point, but still a little too plain and modern. I wanted to dress it up a bit. So, I drilled a few holes in the drawers and the door, and added this beautiful hardware from D. Lawless hardware. They were so sweet to provide me with all the hardware for this project and the next one I'm going to share with you.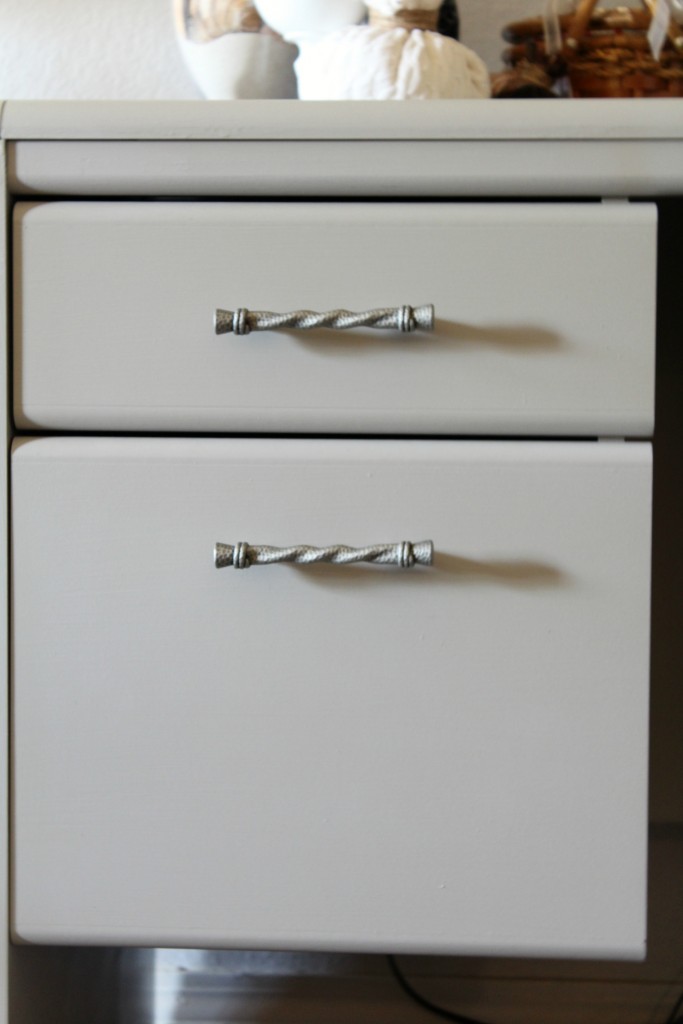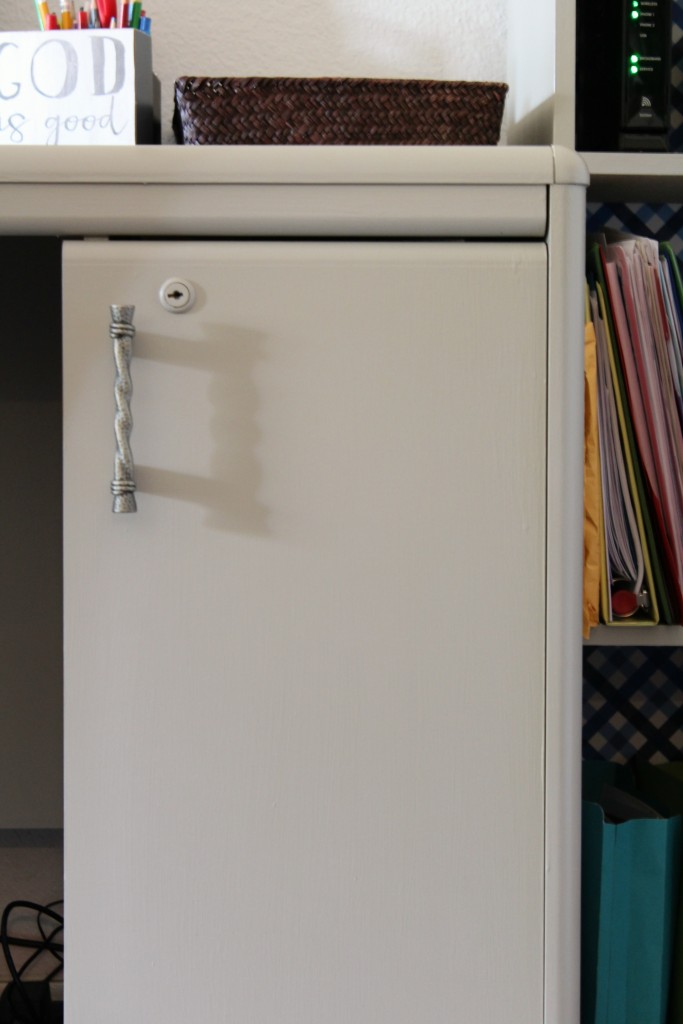 Sooo much better, right?? I really think the hardware stepped it up where I can live with it for a few more years. 😉
Next was a dresser that actually came out of our bedroom, where it had lived for quite a while until it was replaced with an awesome armoire that also got a paint redo. It's a great piece of furniture. One that we actually purchased for ourselves shortly after we were married. It was a little beat up and the stained finish just added way too much brown to the room (which already has a ton of brown btw).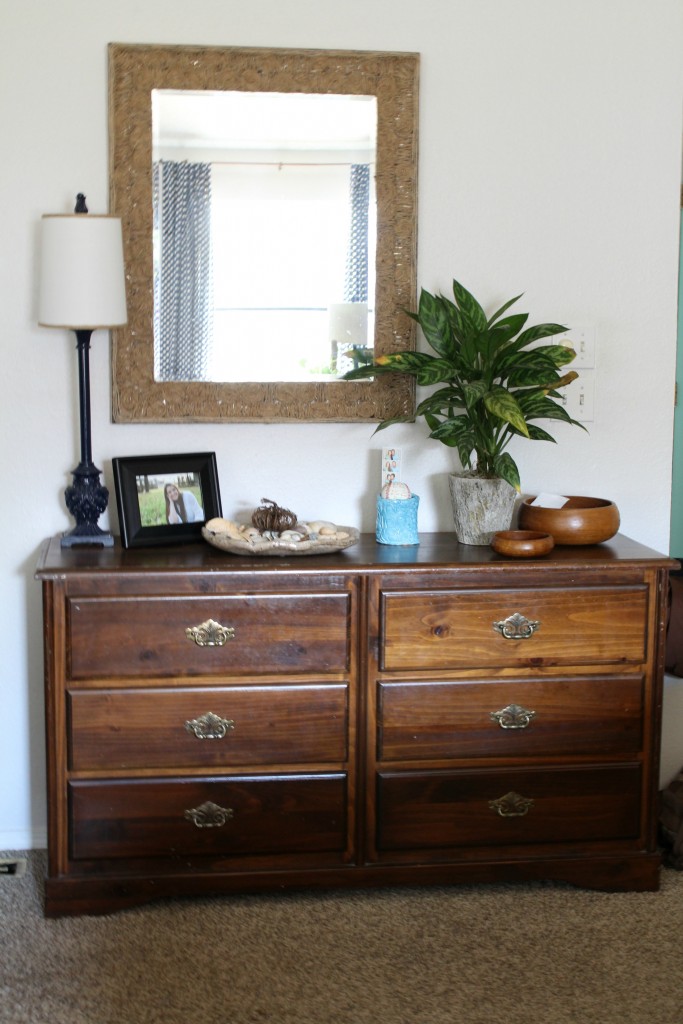 If you follow me on Instagram or Facebook you know I was really having trouble picking a color for this piece. I thought in the beginning all three pieces would match, but then I changed my mind. I asked for you're opinion by posting this pic. (sorry grainy iPhone pic)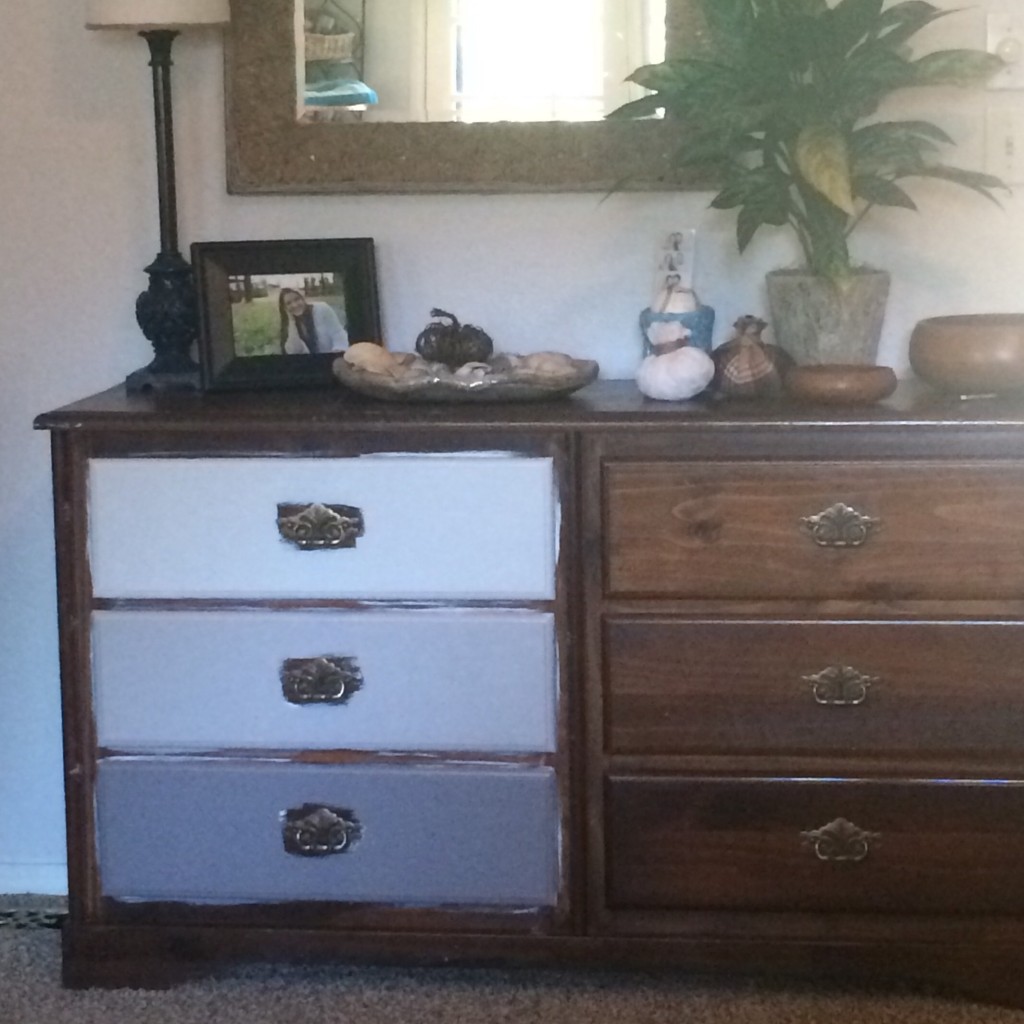 Almost everyone voted for the darkest color. I tried it out…and I HATED it. It looked like wet clay. Not really the look I was going for. But, what I gleaned from your opinions was to not go safe and neutral like I always do. So, I didn't.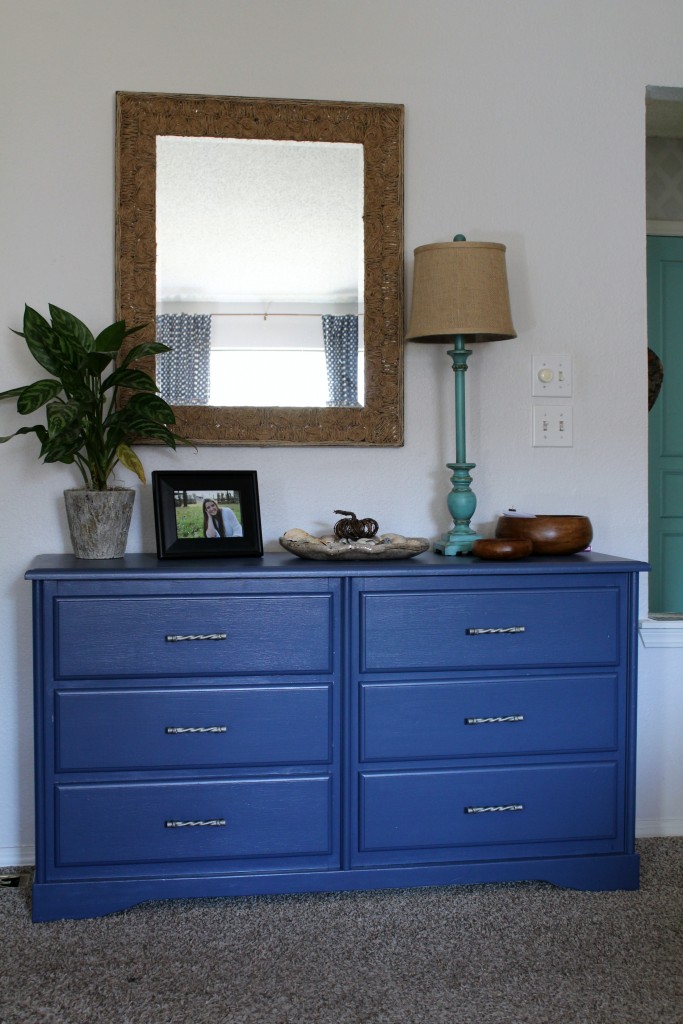 I decided to go with a navy blue. Something that would mesh with the rest of the room, and house. This blue is Indigo Batik from the HGTV home by Sherwin Williams collection. It reads a lot brighter in the sunshine and much warmer in the evening. I didn't want it to be too dark since that was the point of painting the piece in the first place – get rid of the dark.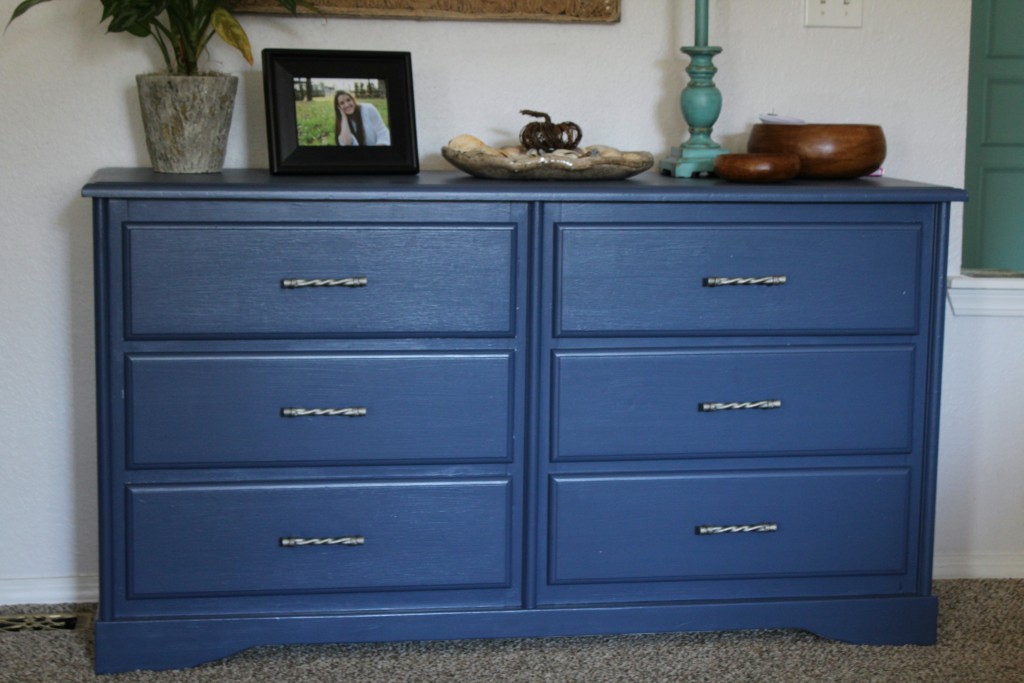 I have to tell you that I lived it for several days, thinking to myself, "what in the world have you done??". Does anyone else second guess themselves?? I do it all the time. The truth is I love it!!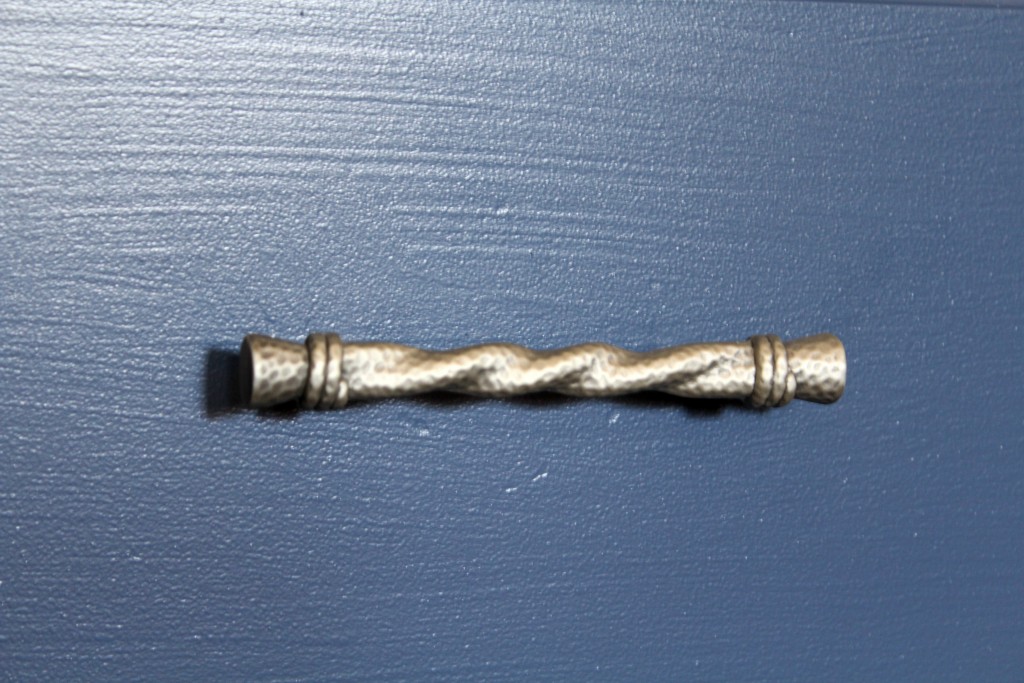 The dresser also got dressed up with the same hardware from D. Lawless Hardware. These brushed nickel pulls are so pretty – even prettier in person. The insides of the drawers got a little dressing too, but I'm gonna save that for another day or this post would go on forever!!
Be sure to check back in tomorrow for more One Room Challenge goodness! We are almost to the end, and I can see the finish line!


Linking up with That DIY Party / TDC Before and After / The Inspiration Gallery / The Creative Circle