Well, a little more than a month later and my Garage of Doom is D. O. N. E. done!!!  Can you tell I'm a little excited?  I have been forcing myself (and my hubby) out into that now hot garage – seriously why do we always try to do this in the summer – to finish.  You have no idea how many times I wanted to just shove everything back up against the walls and say "good enough".  But, I knew from 11 years of experience that would not do, and we would be right back where we were in a couple of months.  So…we trudged through the massive piles of stuff.  Many things were deemed worthy to be kept.  So, if worthy to be kept, then worthy of it's own special spot – right?  We store A. LOT. of stuff in our garage because we are 6 people in a not-so-big 30 year old home with not a ton of storage inside.  We have an attic, but that is for the things we don't really need easy access to because, well, it's not easy to access.  🙂  Enough with the talky, talky and on to the looky, looky!!  If you are anything like me than the pictures are what you are waiting to see 🙂  I shared with you the before's in this post, so here are the afters!!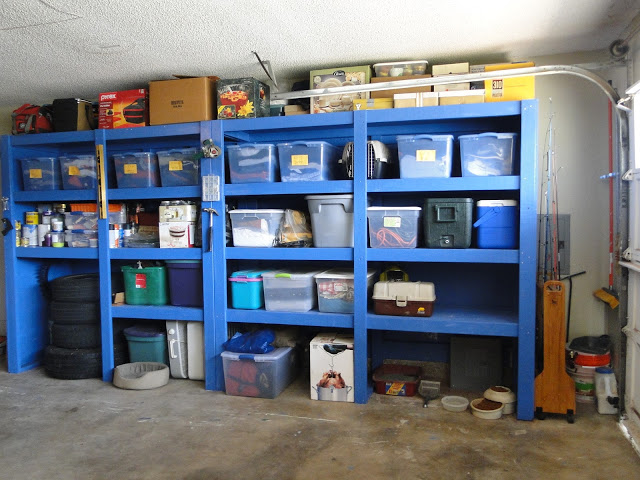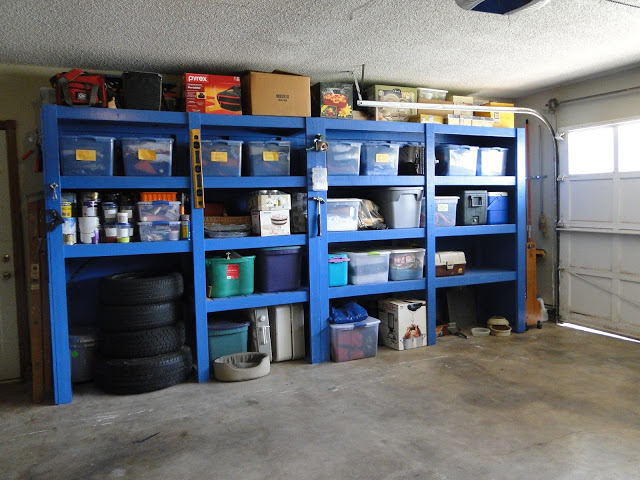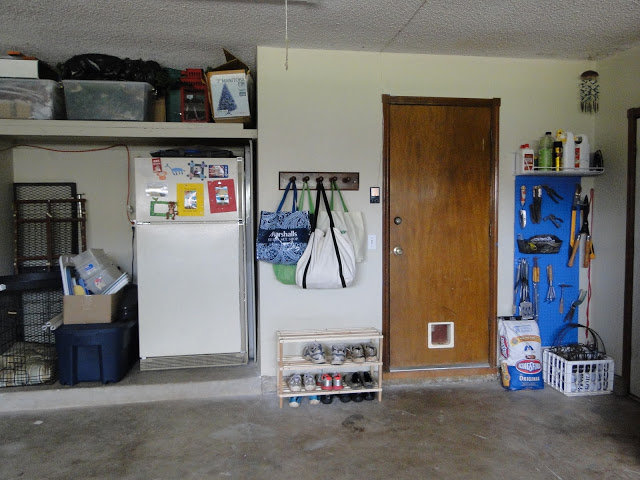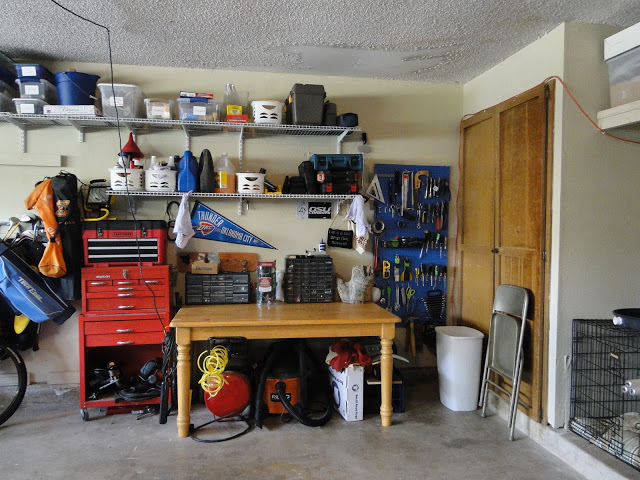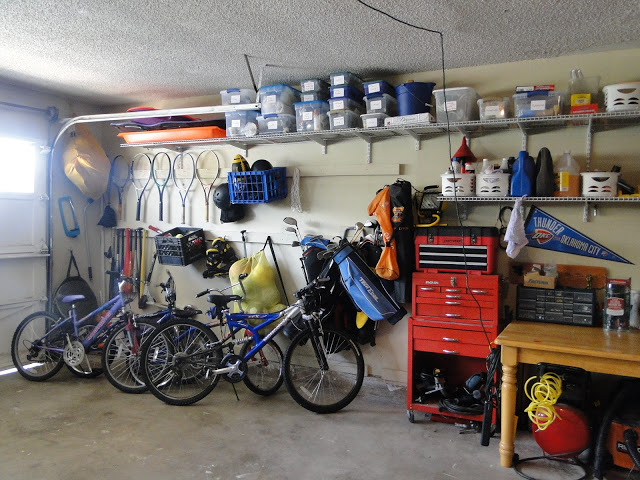 Yes like I said there is still a lot of stuff that we store in here, but man it is organized, and by that I mean like things are with like things, and things make sense to us – things are where they need to be based on the amount of use.  If you follow me on instagram you know I took plenty of in-between/progress photos.  I just needed to see it for myself!!  🙂  I will be sharing this week some specific areas of interest but for this post I just wanted to share pics, and some thoughts on the process.  
This all started with me being fed-up with the mess.  I can never find anything!!!  When I put stuff in the garage I never know where it came from so I would just throw it wherever, which just adds to the problem.  We have lived with the garage plan that the previous home owners left us, because honestly it's the garage and I would rather spend my time and energy inside the house ;).  But, when we were honest with each other, it just didn't function for us, and we needed a change.  I mean, seriously, the walls were PINK.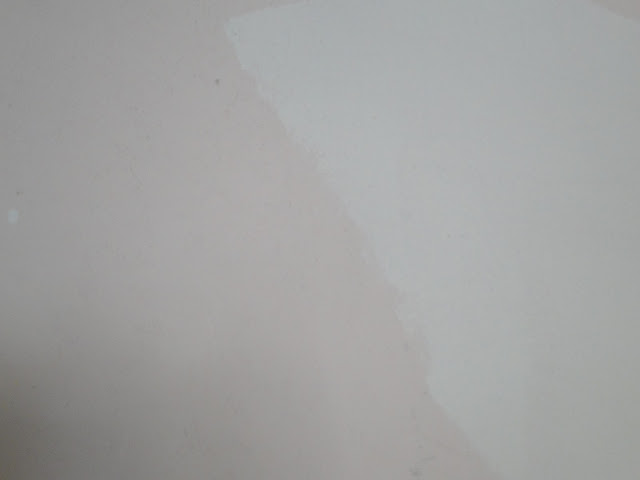 Ya, that color on the left – really?!?  So,

we

 I decided that if we were going to clean the garage we were gonna take it to the next level.  Strip it clean and start over.  So, everything got pulled off the various shelves, and out of the various corners and shoved into the middle.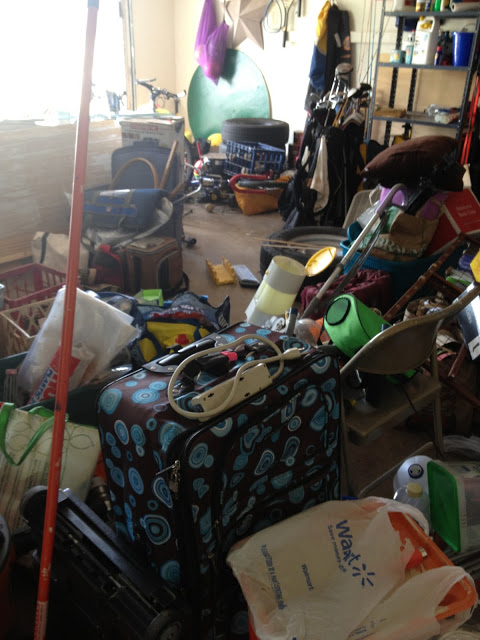 This is one of the various pics of this process.  There was sooo much stuff in here that we had to work our way around the room digging into one space at a time.  We went through EVERYTHING!!  Sorted EVERYTHING, grouped EVERYTHING, discussed logical placement of EVERYTHING.  We got rid of a lot of things, and relocated some things to their appropriate place elsewhere.  A lot of stuff stayed here and we found the perfect place for it – really I couldn't rest until everything had a perfect place.
As I mentioned I did my best to keep this project on a low budget.  In the end the total cost came to around $220.  Our biggest expense being the shelves that we added above the work bench.  The rest was spent on paint, plastic storage, a few new hooks, and a couple a small shelves.
I'm so satisfied with the results and the time spent!!!  I just keep going out there and looking around – amazed!!!  My hubby and I are exhausted!!!  I'm so thankful for his patient endurance with me to the end.  I'm sure there were plenty of things he would've rather been doing :).  He is a good man!!
Stay tuned this week for some highlights!!
Linking up with Kristen at We Are That Family here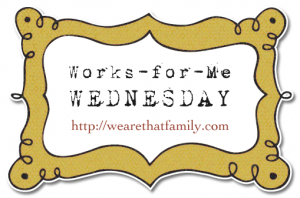 and here with Toni at A Bowl Full of Lemons