Just as a refresher, here is what we started with in this room.  The room that used to belong to big brother – now in college ;).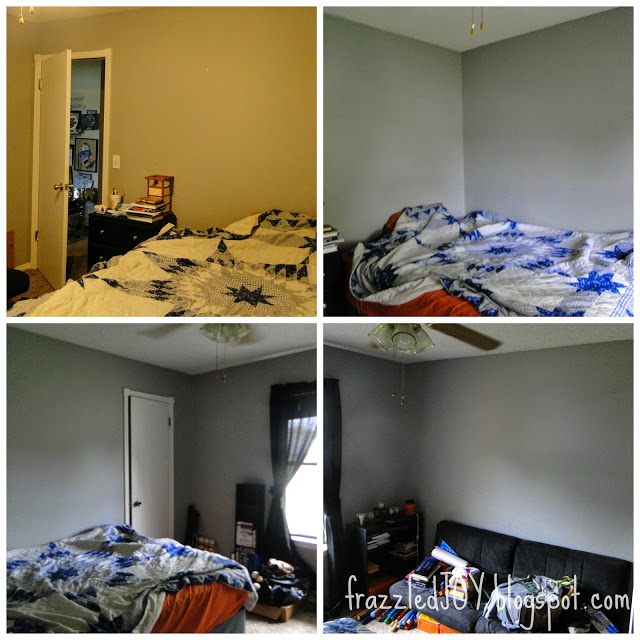 This room now belongs to my middle son.  He just turned thirteen, and he loves all things Americana.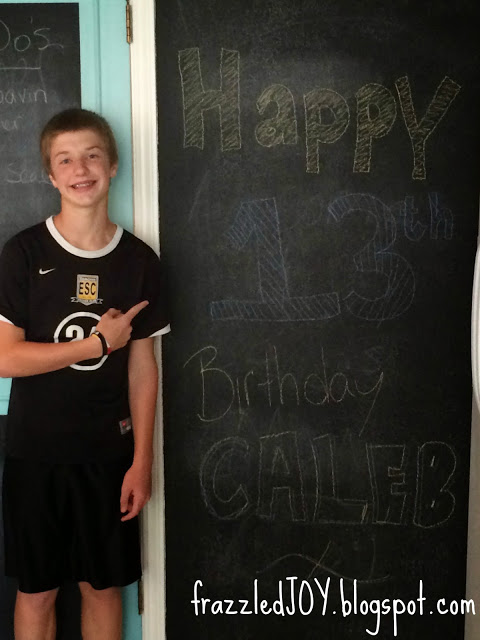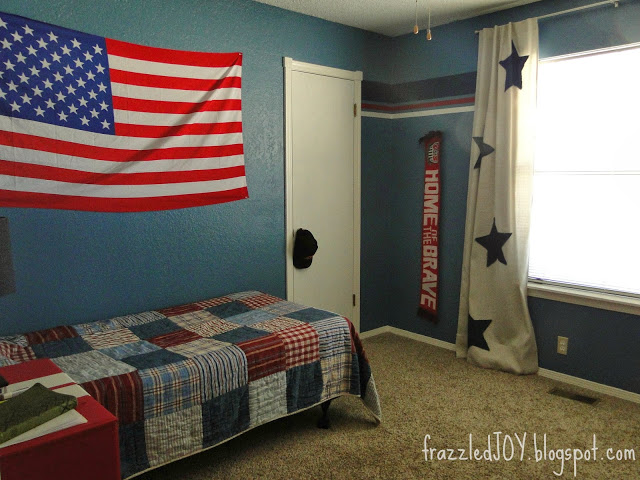 Once he agreed on my design direction, I let him choose the paint color.  He really wanted navy, but I really didn't want the room to be too dark, so we met in the middle with this denim blue color.  The quilt he has had for years, and we love it.  It worked with the color scheme so we decided to keep it.
The flag is from a USA soccer game he went to with his dad a year ago, and truly was the main inspiration.  I knew he would want to display that so I decided to work with it!!  
The curtains are made from my trusty source – drop cloths, and were inspired by these that Sarah made for her boys.  The stars are cut from a chambray fabric.  I frayed the edges of the stars by washing and drying them, and then adhered them with some iron-on tape.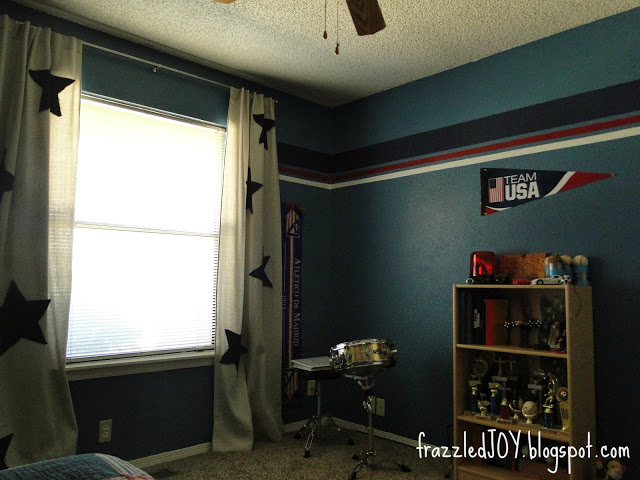 The bookshelf got a little personality from a poster that I found.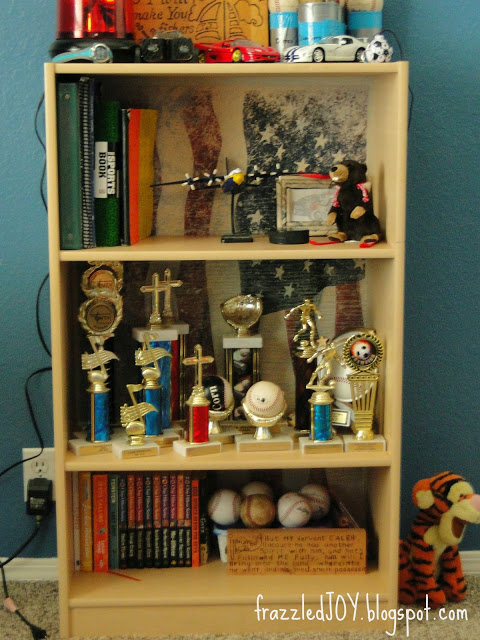 I actually removed the cheap cardboard backing, and replaced it with a piece of foam-core-board that I mod-podged this flag poster to.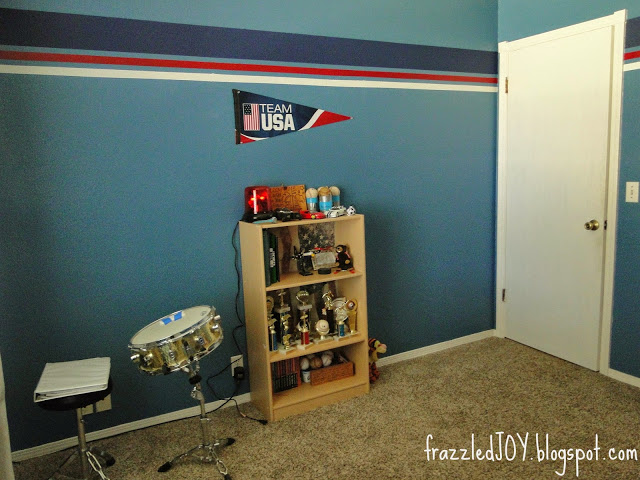 The stripes are perfect to break up the boring wall without the need for a lot of art work.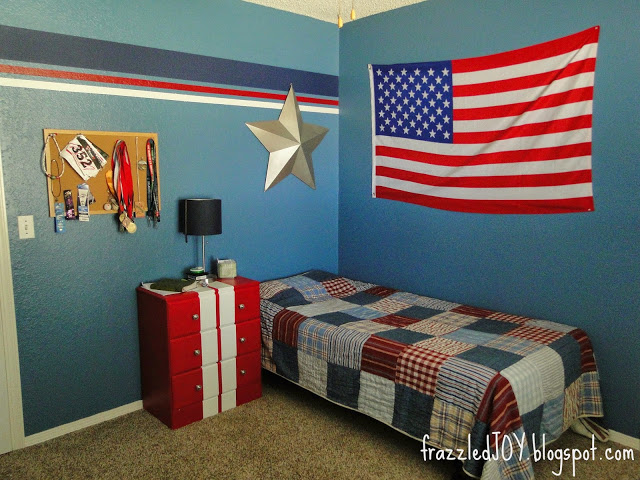 The star I have had for years.  It was red, faded, and collecting dust in my garage.  A little silver spray paint and I think it fits perfectly in here.
The dresser was fun to paint and surprise him with.  He LOVES it :).  He said it looks like racing stripes on a mustang.  Mama score!!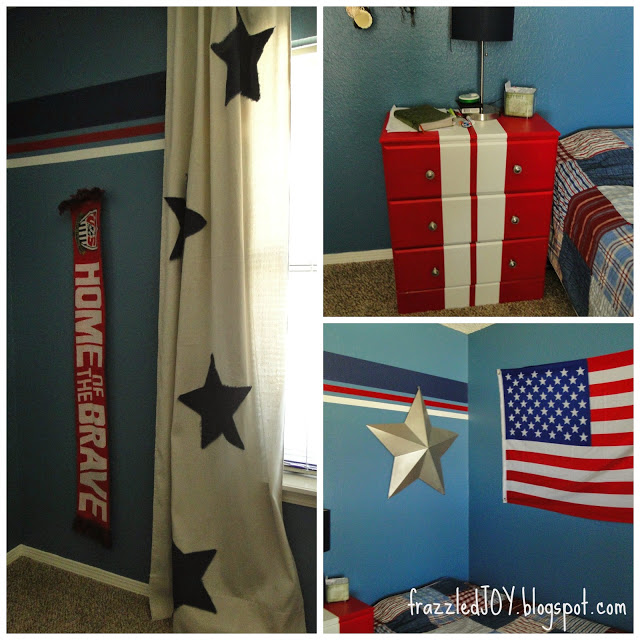 With just a few DIY's and some personal touches we were able to create a room that we both love. There are still a couple of things on the list. Extra touches to make it a little cozier [maybe a few pillows;)], but for the most part it is d.o.n.e.