There was a time when we didn't have many pillows in our home, but that will not be the case anymore. Pillows just say 'cozy' to me.
For our master bedroom update I made an easy change by replacing all the pillows and pillow covers. I replaced the red toile pillow shams with some DIY dropcloth envelope shams (made using this method) that I added some ribbon stripes to. I had just enough ribbon left to make two stripes on one end of each sham, but that works, because that's the only part that shows. 🙂
The blue fabric on the two throw pillows was one that caught my eye in the beginning of the update. I looked at a lot of other options, but this one just kept coming back to my heart, so I made it mine. The pillow in the middle is made with leftover fabric from the headboard. I had just enough. And, once again with the ribbon – only this time I manipulated it to look like a heart! It's not perfect, but that makes it perfect. (These three pillows were made using this method only with a regular zipper instead of an invisible one.)
I was really taken by the fabric on the bolster pillow too. This was one of my last projects, so I was at the end of my budget. I REALLY wanted a bolster pillow. I'm not sure why, but I did. But, since there was no money left, I wasn't sure what I was gonna use for a pillow form. Then I looked at one of the standard pillows that I took out of some old pillow shams and a light-bulb went off. So I did this.
I folded the pillow in half long-ways and stitched the edges together. Instant bolster pillow form.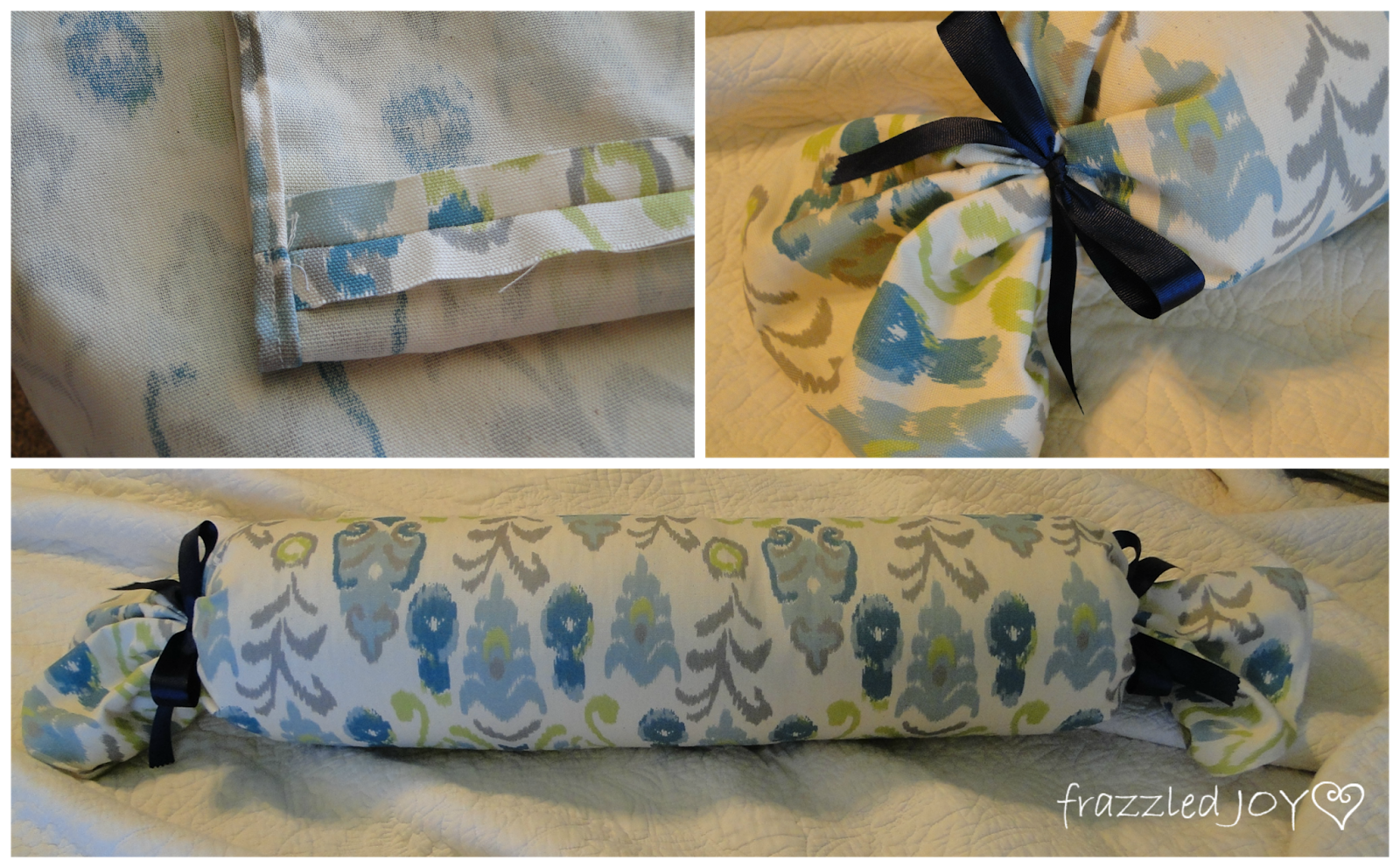 Then all I had to do was sew a tube, stuff in the pillow form, and tie up the ends with the last of the ribbon.
I love how full and fluffy the bed looks, and feels!! And pillows are such an easy and inexpensive way to bring in color too!!