It's Christmas tree share day!!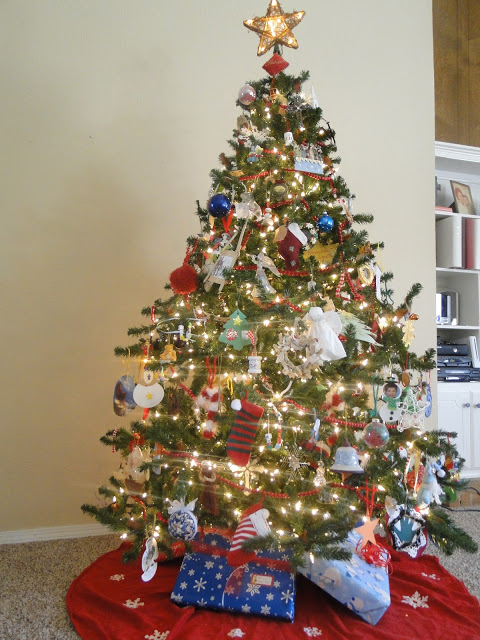 I have never been a matchy – matchy kind of girl when it came to my Christmas tree.  I love them and I think they look beautiful, but that decor never worked out for me.  When we were first married we hardly had enough ornaments to cover the front of the tree, and didn't really have the cash to spend on a treeful of ornaments.  Each year I would add a few cuties during after-Christmas sales, and my collection slowly grew.  We have held to the tradition of purchasing a family ornament each year, some describing what was going on that year, and others that were personalized with names and year.  Sometimes we include the kids in the picking out and other times we just make it easy and
do it ourselves, because 2 heads are most often better than 6 :).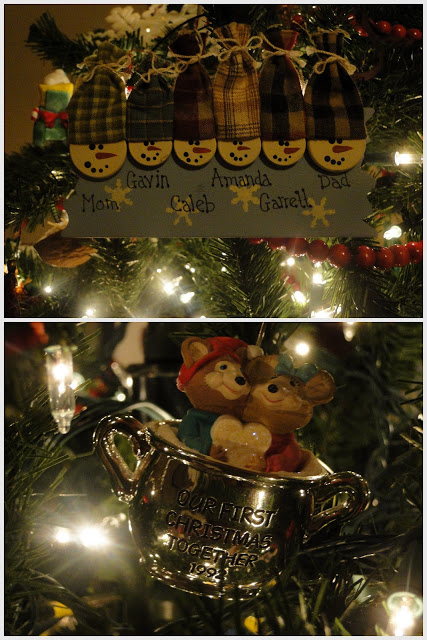 And then, we had children who began bringing home these adorable hand-made ornaments which I adore.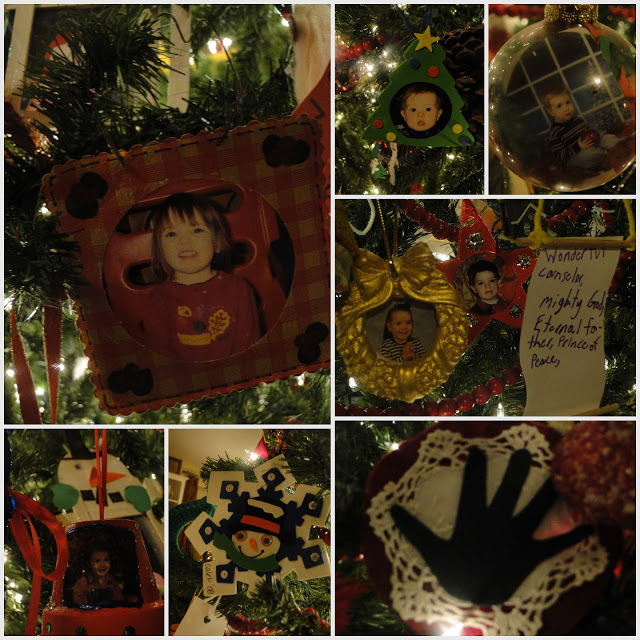 As my kids are all older now, new ornaments come fewer and fewer each year.  And, I come apart a little more each time I pull them out and gaze out these precious smiles and cheeks, and those little hands.  Where has the time gone??
As a matter of fact, the kids decorated the entire tree by themselves this year.  They really do love doing it, and it takes no time at all.  I turned on the Christmas music and unpacked the tins and they went to work.
I was unsure how it would work this year.  Because unlike those starting out years we have lots of ornaments now, because I still shop those after-Christmas sales.  Here is what my stash looks like all stored up.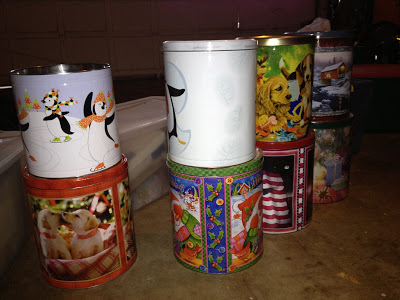 Yep, those are old popcorn tins that I cleaned out and used for storage 😉  And here is my frustration…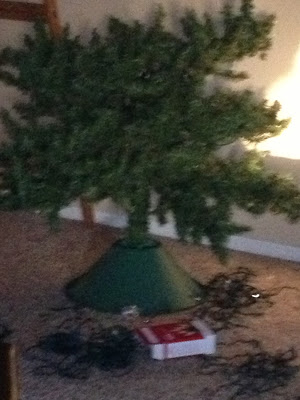 See, my wonderful hubby had purchased this wonderfully awesome 9.5 ft pre-lit slim tree at an after-Christmas sale about 8 years ago for $35.  Yes, $35.  He called me and told what he had found and said "should I get it, is that a good deal??"  and I quickly said "YES!!"  Now I kinda wish I would've said "get two!!"  Because when I got this beauty out and fluffed and plugged in – only half the lights worked.  So, then I thought – 'I can fix it' – and proceeded to try – and then decided it wasn't worth it.  So, I then pulled out our old 7.5 ft tree that I had kept thinking I would someday put up two trees and decided to use that.  So, I wasn't sure that all the ornaments from the 9.5 ft tree would fit on the 7.5 ft tree – but the kids, they made them fit.  The tree is full, and I mean full or ornaments.  I love it!!
Here's another look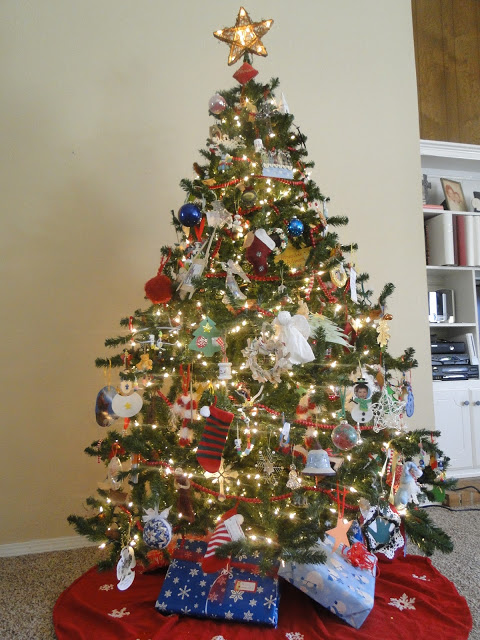 Glorious imperfection is perfect to me 🙂
Oh, and if you are wondering, the tree skirt was a tablecloth that I got at an after-Christmas sale at Target, several years ago that I transformed – cost much less than a store bought skirt.
I wish I could keep the tree up all year long.  It just make me happy looking at it, twinkling lights and precious ornaments.
Linking up today at