Okay, so my biggest reason for eating out has always been – "oh my goodness, it's almost dinner time and I have no idea what to make". Sound familiar?  So then I text my hubby and say, ever-so-sweetly, "can you pick up something for dinner on your way home?"  To which he says, ever-so-sweetly, "I'll take care of it."  🙂
Well after 19 years of marriage I think I finally figured out that the key to knowing the answer to "what's for dinner?" is meal planning.  My mom taught me to cook, and I had a variety of meal options under my belt when I got married, however, my mom never really seemed to have a plan.  It was more of opening up the freezer that morning and pulling some meat out and thing figuring out what to do with it later, and she was really good at making something great from nothing.  But, for me not so much.  However, being new to this whole homemaker thing, this is how I attempted to operate for years.  The flaw in this plan is that I barely like to eat breakfast in the morning, let alone think about dinner. So, I would not even get to the pulling the meat out of the freezer part.  A few hours before dinner would arrive, and I would realize, not only did I not have a clue what I wanted for dinner, but all the meat was frozen, so I had nothing to cook for dinner.  For a while my hubby would pull meat out for me, and I would go from there, but then I got bored with what I was cooking.
In comes pinterest (again), and more recipes at my fingertips than I ever knew what to do with, and still don't by the way.


Also, I noticed all these really cute menu boards (like this one), and printables, for meal-planning and grocery lists.  I even pinned a few several. But, that's as far as it went.  For the past year, I have slowly found a process that works for me.  This is what it looks like when I start.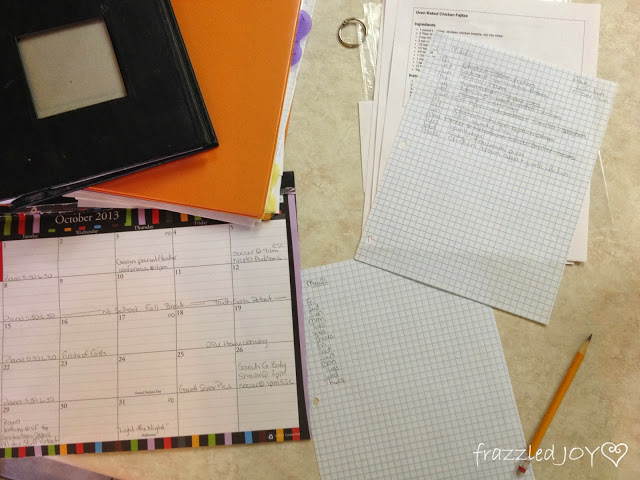 I pull out a couple of binders that have all of our family's go-to recipes – family recipes, and some new ones I have tried which we now love.  I also have my grocery list and a piece of paper to make my menu on, and our family calendar.  The calendar allows me to know what nights we might have activities on, what nights we might be having dinner elsewhere or out for a special occasion.  I meal plan for two weeks at a time because my hubby gets paid every two weeks. Maybe you want to tackle one week at a time at first. Some people plan for a month at a time.  It really it whatever works for your family.

I inventory the meat we have in the freezer and I get started. We eat a lot of ground beef and chicken, because it's cheaper than most meats.  So, I try to spread those meats out over the two weeks, and fill in with some other type of meat variety.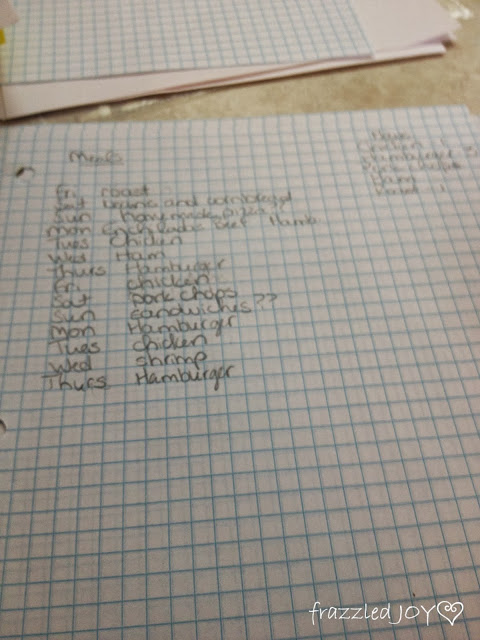 Then I start pulling recipes.  Pulling the recipes now, allows me to add the necessary ingredients to my grocery list.  I don't really enjoy going to the grocery store as it is, so I definitely don't want to have to go often to fill in ingredients.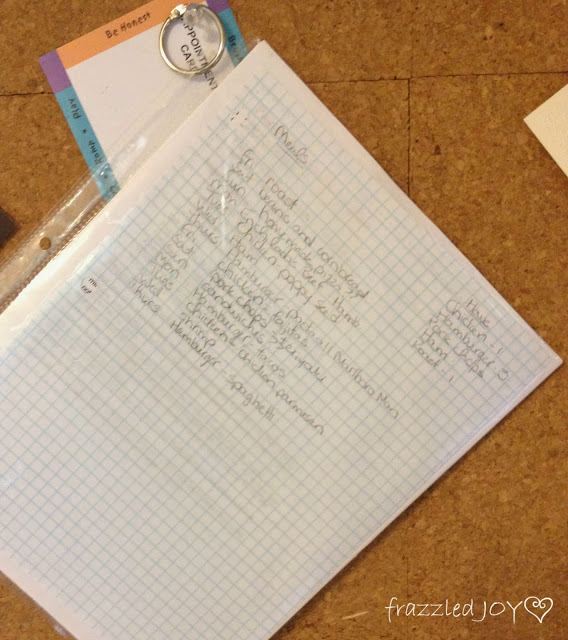 I use a simple page protector to slide my menu and all the recipes in.  And, I have a book ring in the top corner that allows me to hang it in my kitchen.  It's not as pretty as some of the other menu boards I have pinned, but it's functional for me.  I love having all the recipes right there, and being in plastic is a bonus too, cuz if I make a mess, I'm not ruining the recipe page. (I have no idea what the blue stuff is at the bottom of that recipe???)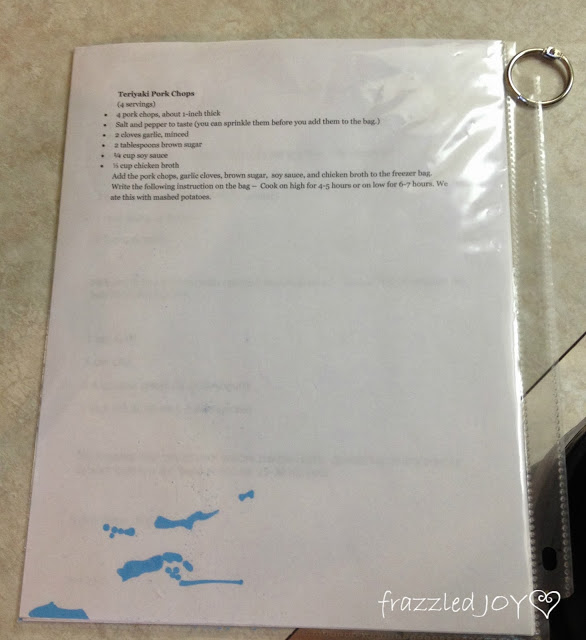 Having a plan means I don't really have to think about what I want for dinner in the morning.  I just look at my menu and pull out the corresponding meat for that day. This also allows me to choose meals that will work depending on the time I have on any particular day.  On the days that I attend Bible Study, or other activities, I might choose a crock-pot meal so I don't have to worry about it. On those days when we are all eating dinner at different times, I will choose something simple, that can be heated up easily.  

This has almost completely cut out our eating out.  We still do on occasion, but it's not out of desperation anymore.