Hey there! It's time for another Tablescape Blog Hop with my friends and I! This time is Christmas themed! Are you hosting family or friends this year and need some tablescape inspiration?? Then you are in the right place!!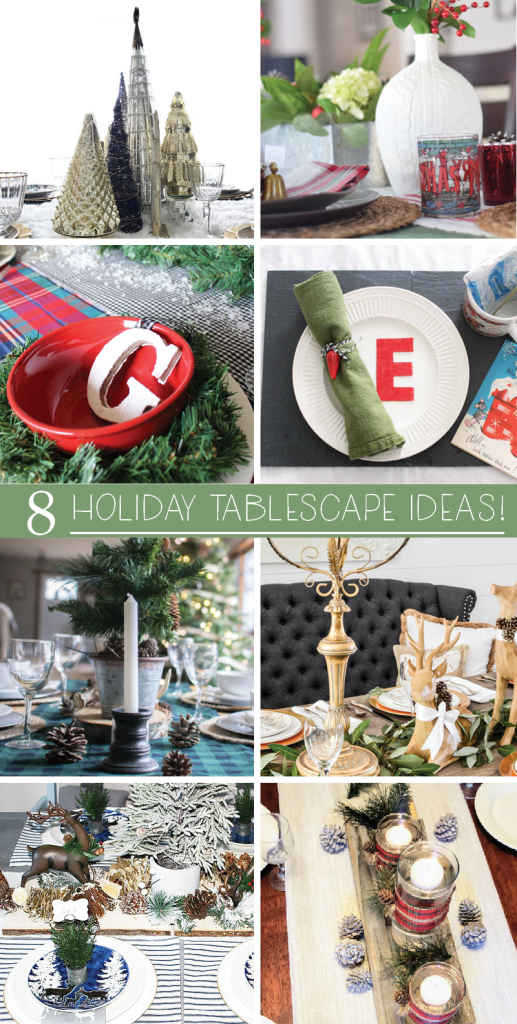 Be sure to scroll all the way to the bottom and check out all the other talented ladies in this hop!
I haven't done a Christmas themed table in a while, and man was it fun! I almost always use a neutral tablecloth – usually a dropcloth. But this time I decided to add one of my favorite Christmas prints – Plaid!!

Honestly the red plaid is just a length of fabric that I had in my stash. Didn't even hem it. 🙂 You can fold the edges under and press – use painter's tape to hold it in place if necessary. Or just let the raw edges show if they're not too shaggy.

The black and white gingham is a runner I made several years ago, and I love having it on hand – so versatile.
Next up – my handy dandy Dollar Tree white plates. Seriously the only thing I use when I set a table! They go for any season or any color scheme!

The red bowls also came from Dollar Tree and I am loving how deep they are! They are nestled in a mini wreath and are holding letter ornaments. One ornament personalized for each person in our family! See how to make those here.

A hurricane jar holds a few bottle brush trees and some fake snow.

And a pair of milk glass pedestal bowls hold some greenery stems.

Some more greenery down the middle, and add a little more fake snow around and you've got yourself a centerpiece!

Simple tablescapes are my favorite. I really don't like too much on the table. Just enough to get the point across. Have I mentioned I love plaid!!

Make sure and check out all the other table inspiration on the hop by clicking the links below!!