Labor day weekend is a four day weekend this year!!  Yippee!!  Again, my list is so long, I'm really not sure where to start and I'm afraid because of that I have not gotten much done.  Ugh!!
I have been working on getting my fall decorations out and in place.  It might be 100 degrees outside but I am moving on.  I am done with summer and ready for fall.
We have been trying to do some outside clean-up, but as I mentioned, it's 100 degrees outside…literally.  Ugh…
For the past 6 months I have been purging my house.  I had a revelation last January.  I just couldn't take it anymore.  Every single corner and crevice of our 2000 sq ft home was crammed full of stuff.  And, to my surprise, I didn't even know I still had some of the stuff I found, didn't know why I still had some of the stuff I found.  Crazy how much stuff you can accumulate over 10 years in the same house.  This is the result of the de-clutter (can't believe I'm showing you this)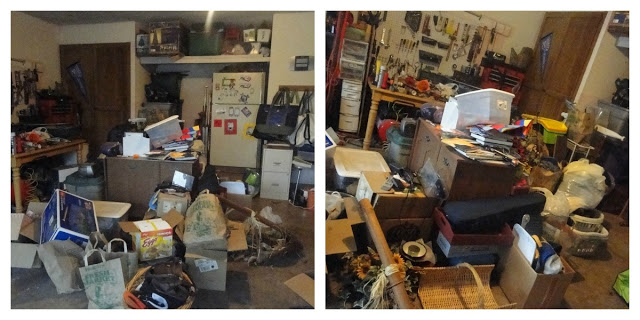 I tried to make it look as big as it really is, but it was impossible to capture the overwhelming mess.  If you can see toward the back next to our garage fridge is a large stack of tubs which are full of more junk.  Ugh…
I am making myself sweat through the mess because if I wait one more week to have a garage sale, it will all go to goodwill.  Hopefully soon I will be able to post after pictures of a clean, organized garage.
In between
getting things done
thinking of what to do next I was perusing my craigslist app on my phone and found a winner!!  Hubby picked it up today…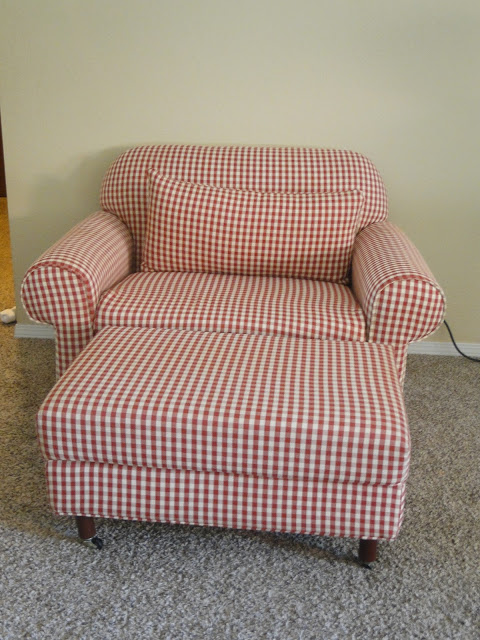 Chair and ottaman set in pretty good shape for $75, yes please!!  Not sure if I will keep the red check and put it in our bedroom, or whether I will recover it.  Definitely will be changing out those wimpy little legs.  Those won't last a week in my house of boys.
Hope your weekend has been productive and relaxing!!
Blessings until next time!!