Hey there! Thanks for all the love for the entryway stencil project! I find myself admiring it several times a day. 🙂 It was just the little something that space needed and it now feels complete!
So, I mentioned I was working on getting the outside entry spruced up to match. I'll show you a before in a minute but I must share the after!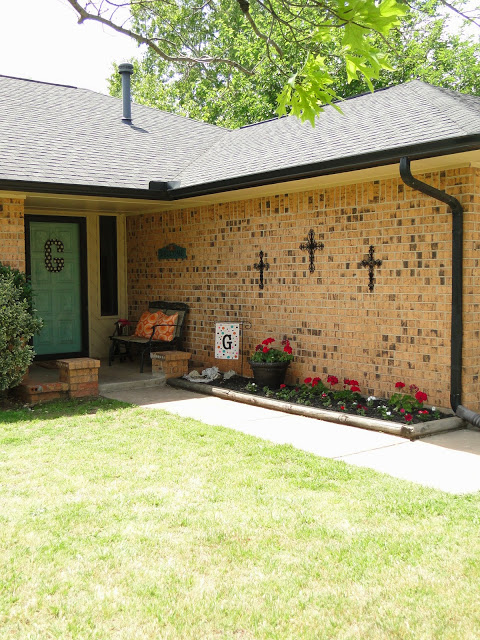 Come on in y'all!! For some reason the color that caught my eye this season was hot pink! This is the only flower bed that I put annuals in so I like to have some fun each year. Our summers get pretty warm and I really like to have color through until the fall if I can so I have a couple of go-tos.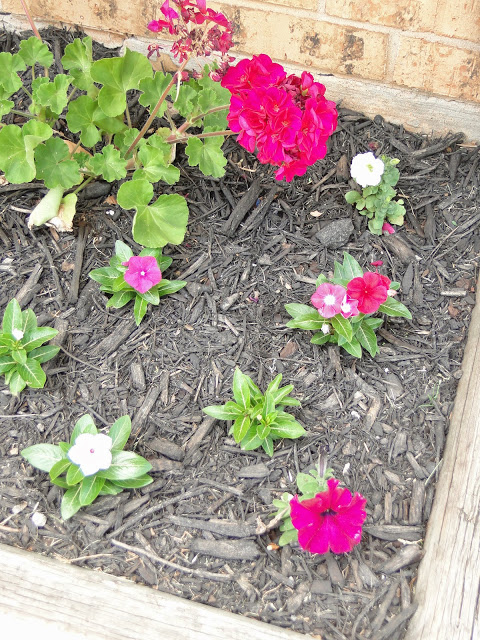 Vincas (the ones with the longer shiny leaves) are my absolute fav. They fill in nice and big, about a foot tall and can withstand the Oklahoma heat. Of course petunias are always fun and do pretty well with the heat too. Geraniums, I just love because of the big clump of flowers. They don't last as long for me usually, but by the time they have died out the others will have taken over so I'm okay with that.
Here is the before where you can see the large bush in the corner there. This corner has always puzzled me. It doesn't get as much sun as the rest of the bed, so I've never had much success growing anything pretty there that I like.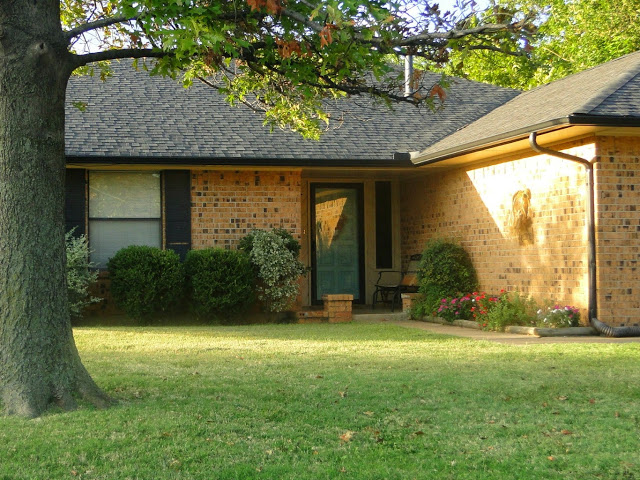 A few years back I bought this bush, really thinking it would stay somewhat small. But, you can see that it did not. I was done with it, so we moved it to the back yard. (the jury is still out as to whether it will survive the not-so-nice transplant it received) You can also see the vincas that are still growing strong in October!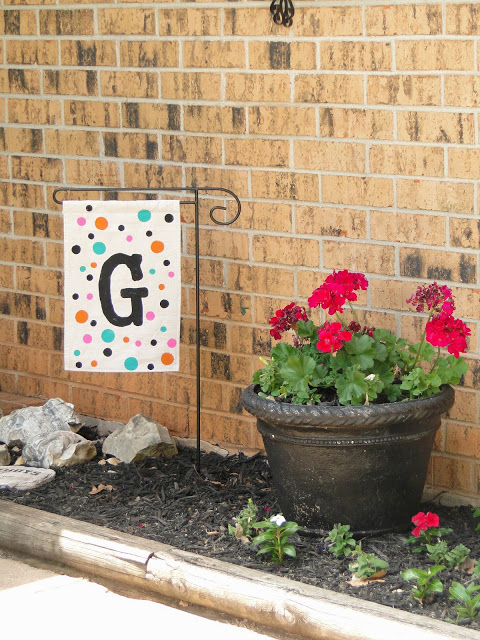 Last summer on our trip to the lake we collected a few rocks to remember our trip. I decided to gather them together, along with a few others, in the corner, and then filled the space with a garden flag.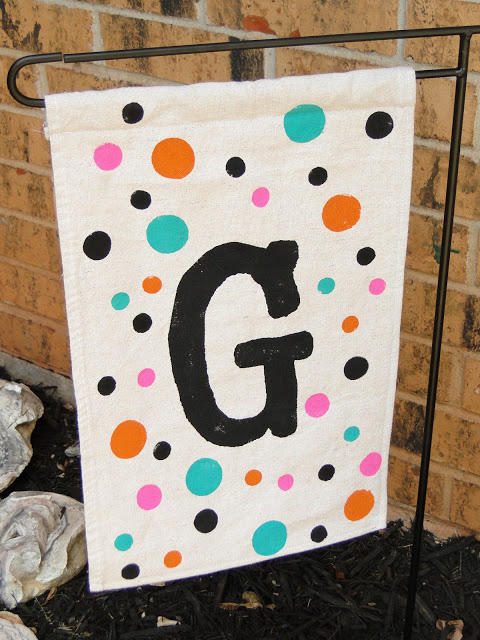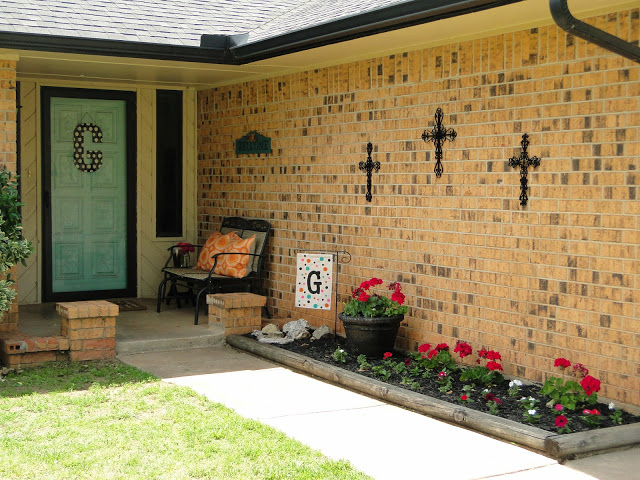 I pulled the crosses and the welcome sign out of my stash, and had my hubby help me hang them. What a difference they make!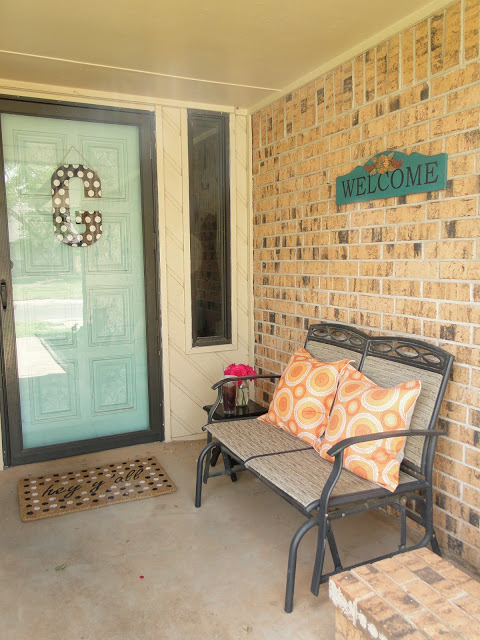 The mat was requested by my hubby. Purchased at Hobby Lobby along with the polka-dot metal "G" hanging on the door.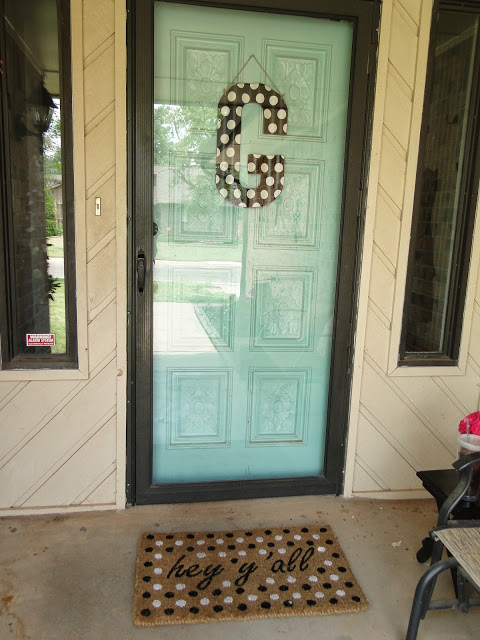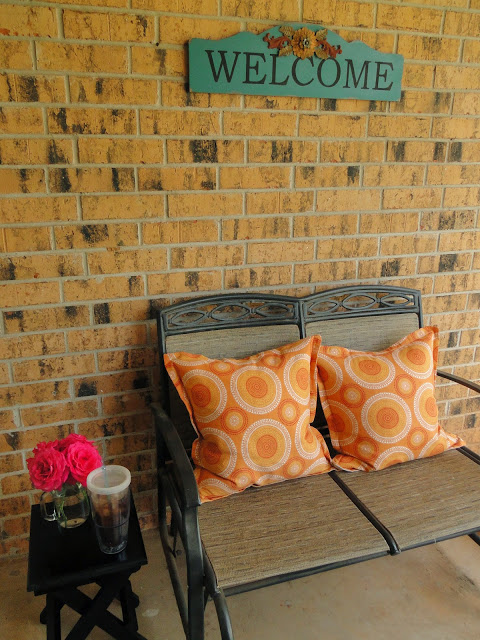 This little side table got a makeover with a quick coat of spray paint, and some more hot pink flowers – roses from a back yard bush. And of course no front porch outing would be complete without a little sweet tea! 🙂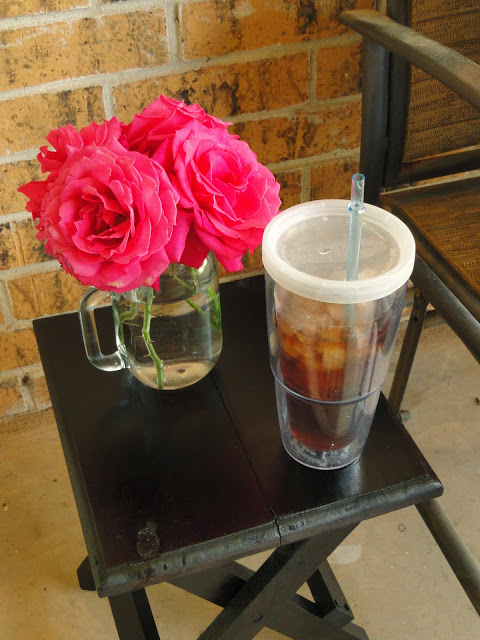 Thanks so much for dropping by! Come and sit a spell. The sweet tea is waiting! 🙂