Hey friends! How's the weather where you are?? We have had several days with cooler temps and I am loving it! Maybe you don't know but I LOVE fall. I really do think it's my favorite season. Today I'm teaming up with several other talented friends to bring you some fall tablescape inspiration! It's never too early to start planning for those family get-togethers happening at your house this year!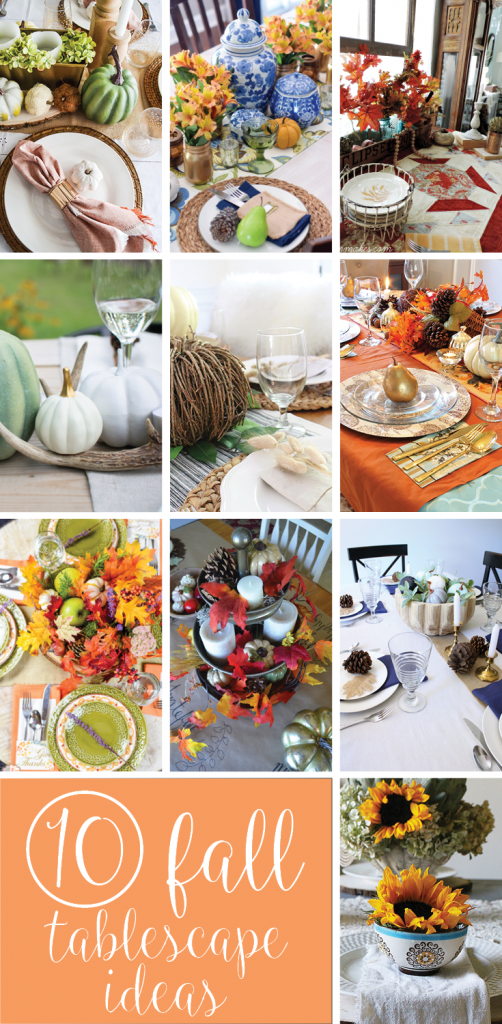 I love fall colors. Even orange. I mean I have it in my home year around! But, this year I have been so drawn to the more muted colors for fall decorating. The blues, and greens, whites, and creams. So, I decided to go that direction for my fall table. (Don't worry, you will still see orange in the fall decor around the rest of the house!)

I must say that I am in love with the way it turned out!!

If you've been here long you know that when I decorate tables, I do my best to use mostly what I already have. I always buy a few things that catch my eye, or to accomplish my vision. But, for the most part I work with things I have on hand.

Had do I do that you ask? I use simple elements that can be used in a variety of settings. My dropcloth tablecloth, and my Dollar Tree white dishes are a perfect example of that! They work for any occasion! The brass candlesticks (all thrift store finds) and the white candles (Dollar Tree emergency candles 5 for $1) can also be used anywhere.

My purchase this year? About a dozen plastic pumpkins from the Dollar Tree and a greenery bush from Hobby Lobby.

I purchased the wood bowl on our trip to Magnolia Market last spring, and I have been waiting to use it for a tablescape ever since!

I used some chalk paint I had on hand in the colors I wanted and painted all the pumpkins. I even painted the stems with some copper acrylic paint.

I filled up the bowl with my pumpkins and added the greenery for filler. Easy peasy!

A simple burlap ribbon makes a great table runner and base for the candlesticks and a few pinecones.

I bought the navy napkins last year for our Thanksgiving table from At Home on clearance.

I used more pinecones and these cute burlap leaves (from Hobby Lobby) to jazz up the small white plates. You could even print out place cards and stick them in the pinecones if you would like.

I love the simplicity and calmness of this table friends!

I hope you are inspired by this and all the other tables shared today! Be sure to click through all the links below and check them out!!