Are you in a rut with dinner? Are you tired of eating the same things all the time? Ya, I've been there. Pinterest is my go to when I'm stuck. I find so many yummy things there! I have been trying to clean up some of our family favorites in an effort to be more healthy. (clean-up meaning replace bad-for-you ingredients with better-for-you ingredients) And, that is where this chicken enchilada recipe was born.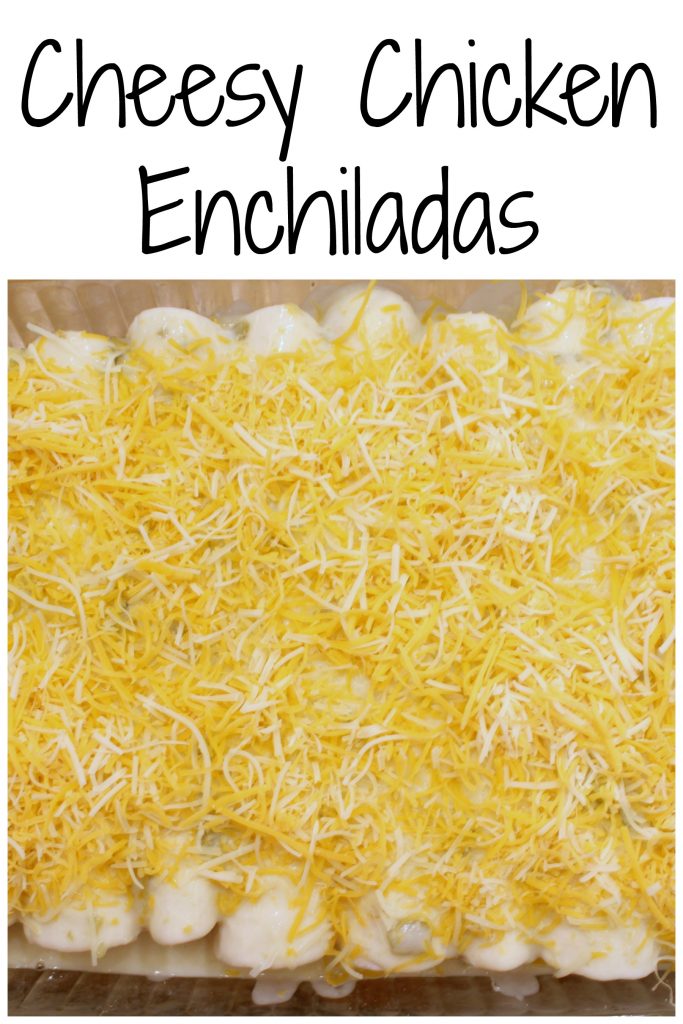 For years I made a super yummy enchilada recipe that was loaded with that golden fake cheese (you all know the one). It melts so well, and it tastes so yummy. But, honestly, cheese that doesn't need refrigeration… So, I spent quite a while searching for an alternative. You would think it wouldn't be that hard. But, the key for me was cream sauce for the top, not enchilada sauce. I found this recipe here, and tried it out. We liked it, but the filling was a bit too plain for our liking, so I started adding things. First diced tomatoes with green chilies, and then chopped onions. It's a great tasty filling now with a creamy white sauce that we all love!!
Start by cooking your chicken, and then shredding it. If you have a stand mixer, I highly recommend using that to shred your chicken. Never tried it? It will change your world I promise. Just use the paddle attachment, nothing special needed. Works like a charm.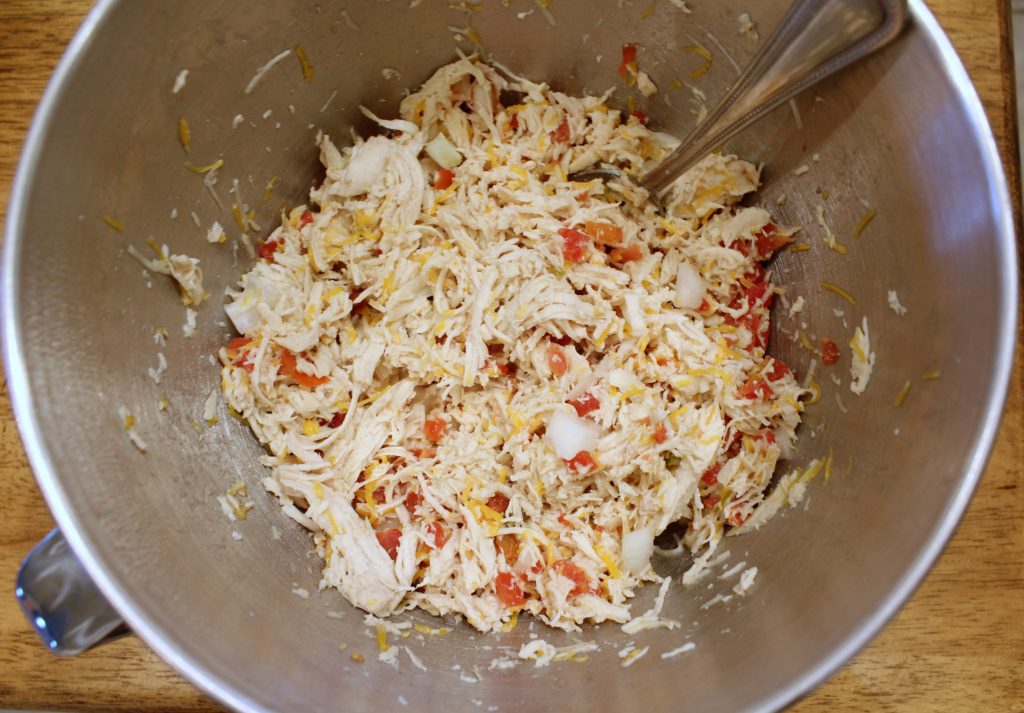 Then add 1 cup shredded cheese, 1 cup chopped onion, and a can of diced tomatoes with green chilies. Mix it all together.
Now, it's time to fill your tortillas. I usually cook 2 1/2 – 3 chicken breasts and I can fill 10 tortillas with that amount.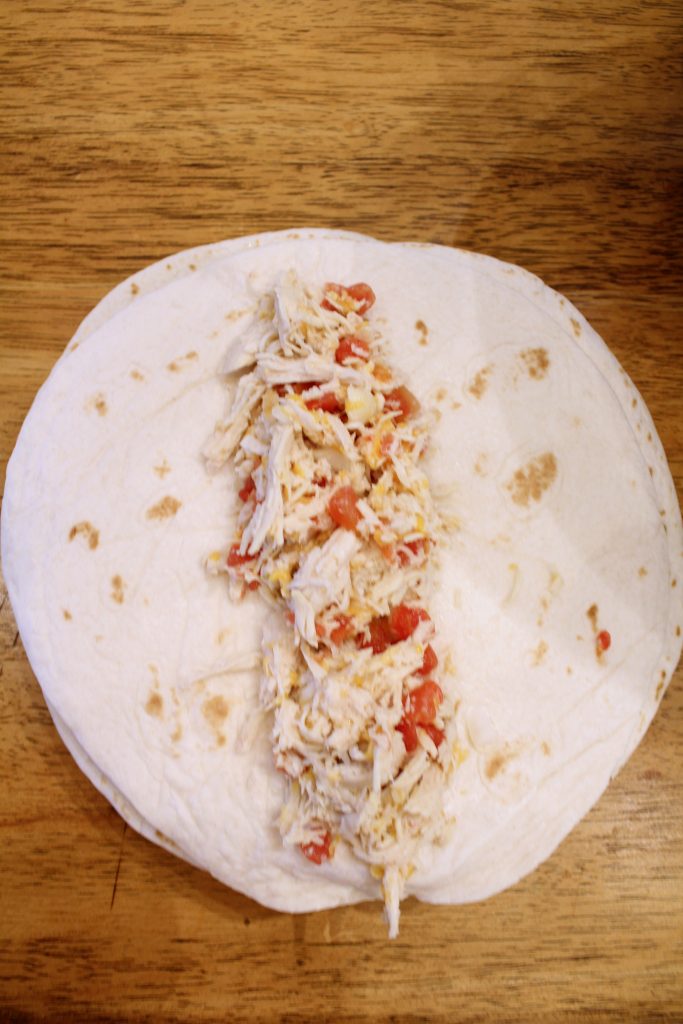 Sometimes I cram them all in one pan and sometimes I use a smaller pan for the overflow. It's up to you.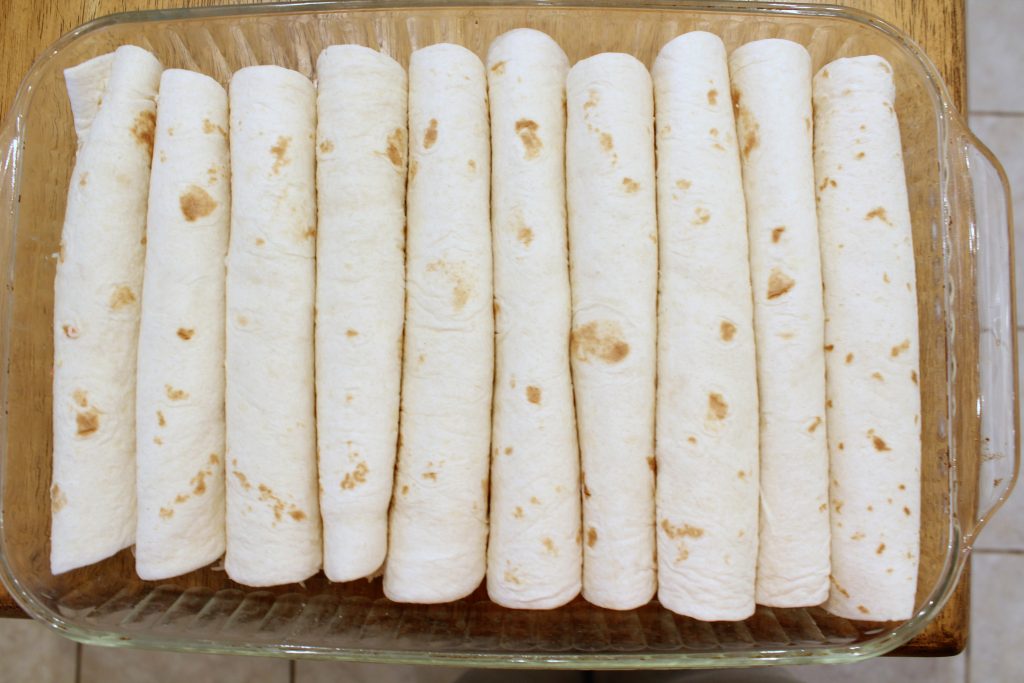 Next, make your cream sauce (full recipe below). Pour cream sauce over the top of rolled tortillas and sprinkle the remaining shredded cheese over the top of that.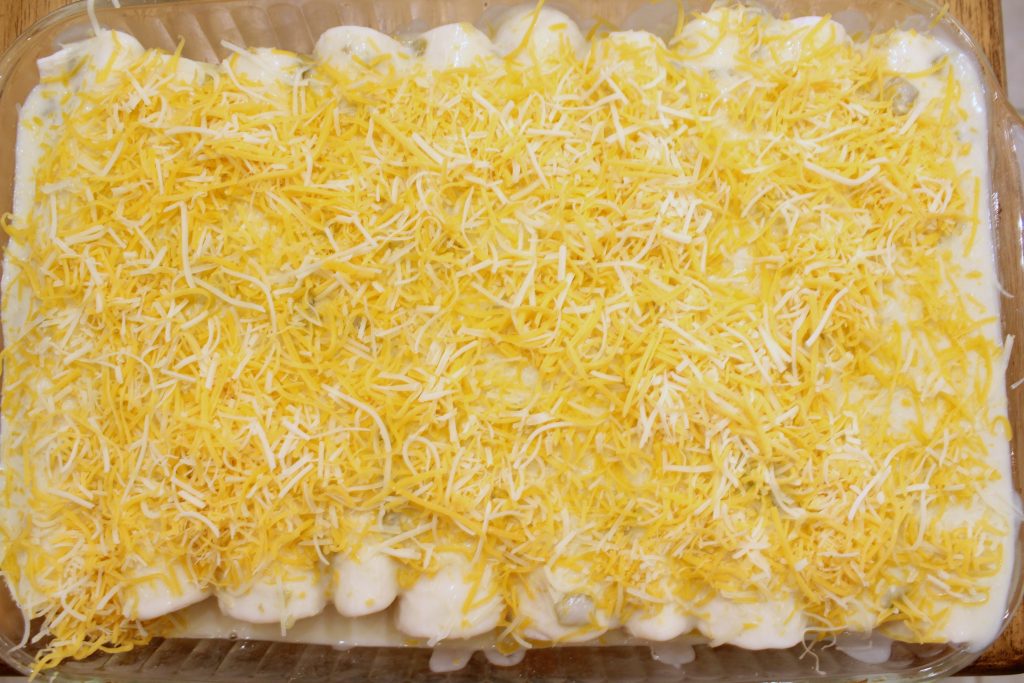 Bake at 425 for 20-25 minutes or until the cheese is golden brown.

Eat and enjoy with your favorite Mexican side dish!!
Here is these full recipe.
Cheesy Chicken Enchiladas
Ingredients:
2 cups shredded Monterrey Jack cheese (colby jack works just fine, as does cheddar)
8-10 flour tortillas
3 tablespoons butter
1 cup sour cream
1 4oz can of diced green chilies
2 or 3 chicken breasts
3 tablespoons flour
2 cups chicken broth
salt and pepper
1 14oz can of diced tomatoes with green chilies
1 cup chopped onion
Directions:
Preheat the oven to 425 degrees.
Cook and shred your chicken. Mix with 1 cup shredded cheese, diced tomatoes with green chilies, and chopped onion.
Fill tortillas with chicken mixture evenly. Roll them up tightly and place in a greased 9×13 baking dish.
In a saucepan, melt the butter and add in 3 Tbsp of flour. Mix and cook for about one minute.
Add in the cups of chicken broth, whisking until it's a smooth consistency. Whisk over medium heat until it is thick and creamy (usually takes about 5 minutes).
Mix in the sour cream, salt and pepper to taste, and the can of green chilies.
Pour the cream sauce over the top of the rolled tortillas.
Sprinkle the remaining cheddar cheese over the top.
Bake for 20-25 minutes or until the chees is golden brown.
I hope your family enjoys them as much as we do!