Valentine's Day is sneaking up quickly this year! We have been doing a family Valentine's Day dinner for several years now, and I enjoy it so much. Any excuse to set a pretty table and get dressed up for dinner (even if I have to cook)! 🙂
As the kiddos have gotten older it's sometimes hard to find a day where we are all home to eat together. Lucky for me, Valentine's Day falls on a Sunday so the chances are good that we will all be there. (other than college boy of course)
I only sat the table for four for you guys because five would be weird, and I didn't want to do the whole table – lazy I know. Anyhow, here it is – sweet and simple.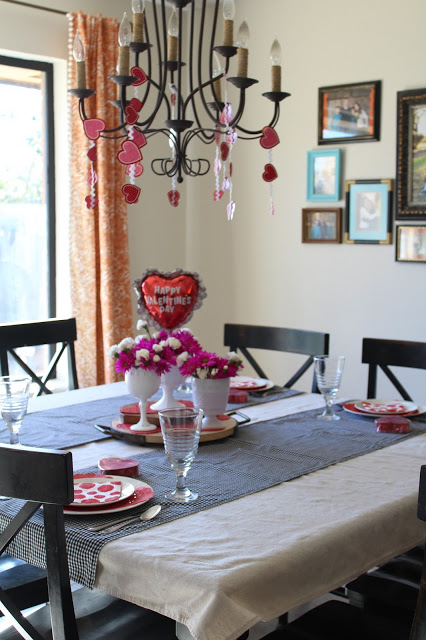 We purchased this large square table years ago when we first moved here and it is awesome. Before we could only seat six at our table which meant no guests. However, in a more intimate setting like this it seems there is lots of empty space – more room for food I say!!
I started with an off-white tablecloth for my base (made from a dropcloth because it's virtually impossible to find square tablecloths, unless you are willing to spend a fortune, and because I like it). To that I added my black and white gingham runners I made a year ago (very versatile).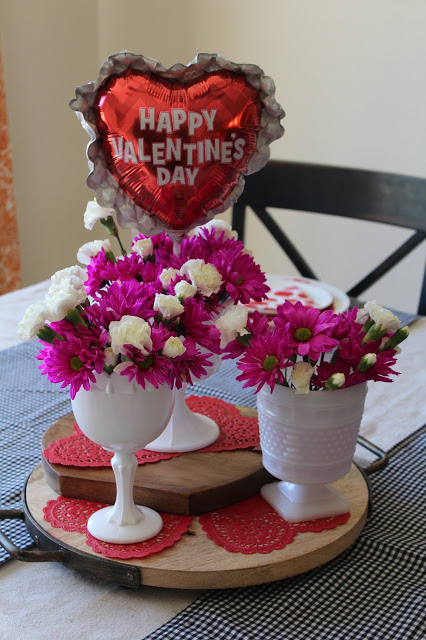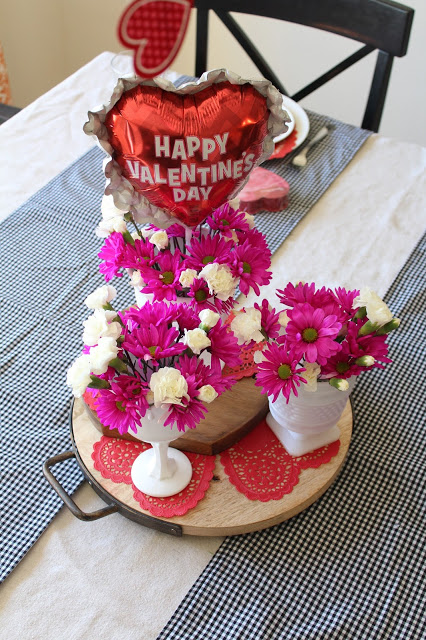 The centerpiece started with a wood tray and wood cutting board stacked, some heart doilies, and white ceramic filled with grocery store flowers.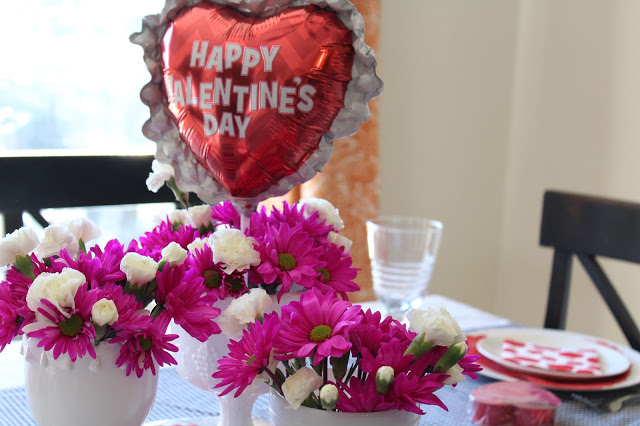 I will admit I was going for red and white flowers, but of course the only red were roses, and I really didn't want to spend that much on the flowers. Then I remembered this stylish lady sharing about mixing pink and red, and I was inspired.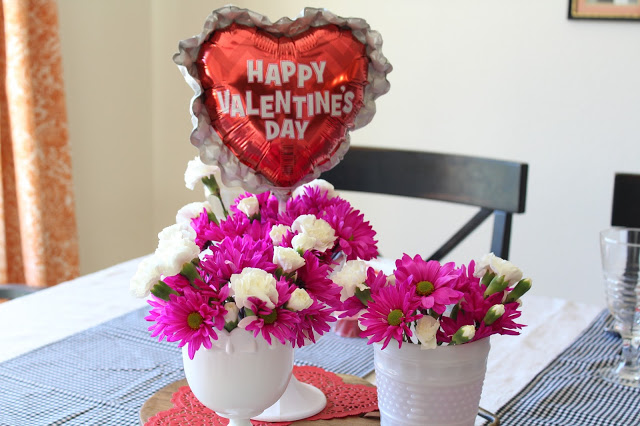 Such a fun combination really. I added the cute mylar balloon just for fun.
The place settings started with my go-to white plates (dollar tree).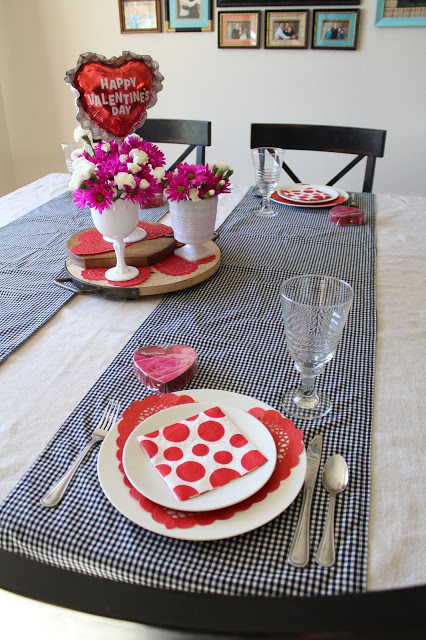 Layered with another white plate, separated by a large heart paper doilie.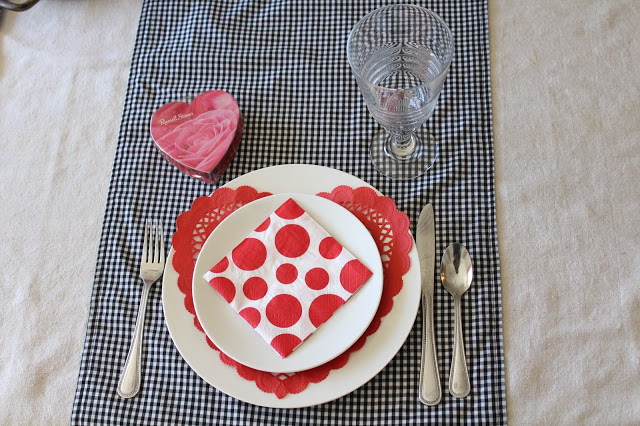 I decided to use paper napkins instead of cloth this time. Simple and cute. I loved the polka dots on these that I found while perusing the aisles of dollar tree.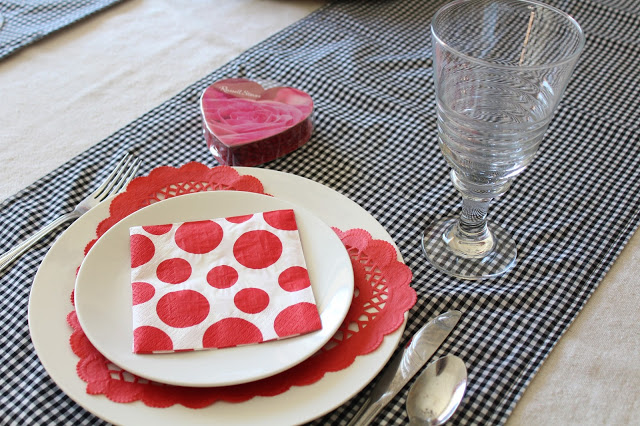 Glasses (also from dollar tree), and silverware finish it off, oh and of course everyone needs a box of chocolates for Valentine's Day!
I had in my head when I went shopping to find some sort of streamers or garland or something to hand from the chandelier, and I found nothing. So, I made my own from some cutout hearts and ric rac ribbon I found in my stash.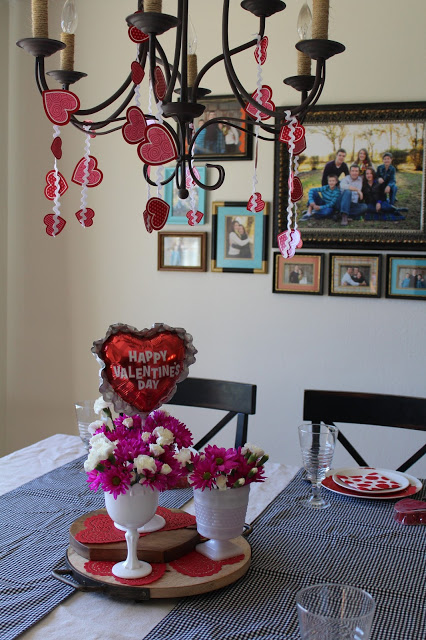 Just a little something extra to add to the simple and sweet. 🙂
I like to keep my budget to a minimum when shopping for these types of things. I spent a $20 on this table (and half of that was the flowers). I love my white plates because I can use them for everything. I don't have the storage space for oodles of dishes so something that is versatile is a must. This post is not sponsored by dollar tree, but I know sometimes I forget some of the great things you can get there, so I share. 🙂
Happy Valentine's Day!
For more inspiration check out Valentine's Day tables of the past